From the
ATWB Customer Gallery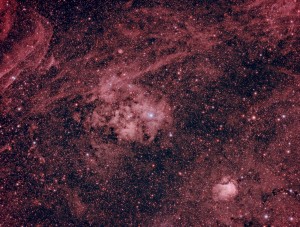 Sh2-115 Nebula
LOMO Little Mak 10x30 Maksutov Gregorian Monocular
[ARTICLEIMGR="1"]Unlike most monoculars, this one is not a refractor, but a Maksutov Gregorian reflector! In the Maksutov-Gregorian design, the light rays from the primary mirror (in the back like a Newt. or other reflectors) converge BEFORE reaching the secondary mirror. The secondary mirror is concave (curved in) and sends the light waves "straight" back to the EP, not allowing them the cross again. This gives a "right side up" image without the use of prisms as in binoculars. The secondary mirror is held by a piece of glass, that would normally be a corrector plate, that is curved outward - not inward line other Maks. - and closes the tube.

It size is about 4.5" long, about 40mm in diameter and weighs only 4 ounces. it gives a 4.5 degree FOV. Its aperture and focal length are 30mm and 152mm, respectively.

The focuser is on the front near the secondary mirror, not near the EP where you would expect. Having the focuser nearer the EP end would be more convenient, though. The focuser travel is a little more than 3/4 of a turn from one side to the other.

The central obstruction caused by the secondary mirror is a little distracting. The obstruction (by measuring from the outside) is more than 50%. This can be moved out of the way by angling the monocular slightly to one side. I find that angling in down moves the slight blur from the secondary far enough away so you can get a clear image. This blur isn't a big problem unless you are looking at an area with a lot of light, like a street light or somewhere.

It comes in black or with a blue star chart body, a wrist strap that connects one time to the EP end, and one lens cap for the end with the secondary. It does not come with a case, but I have found that the cloth cellular phone holders, the ones with the fold-over top held in place by velcro, work very nicely for this size monocular.

Charles
Nashville, TN USA
January 2005.



Telescopes, Astronomy, Binoculars