From the
ATWB Customer Gallery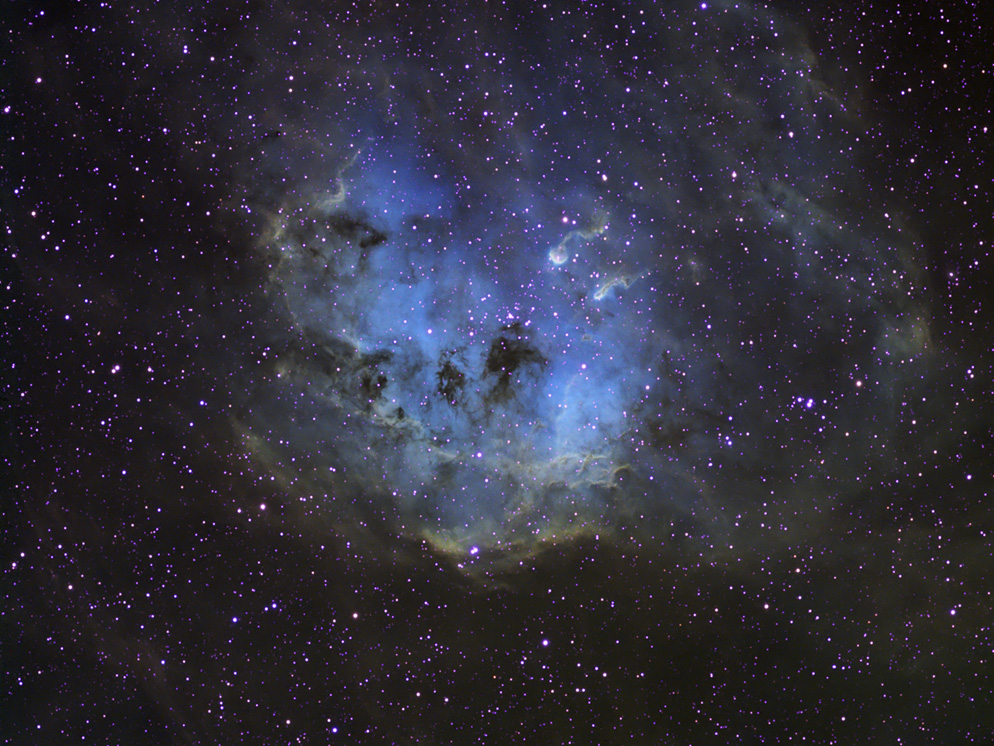 NGC 1893
Burgess planetary eyepieces 6mm &4mm.
I am what you would call an astronomy consumer. I have been on what feels like an endless search for the best eyepiece that I can buy. I get hooked on reviews and have to try the product if it is reviewed well. I have alot of fun doing this.

I am viewing lunar & planetary mostly. I am starting to go deep space only this year. I have owned just about every major brand of eyepiece out there: Televue, UO, Edmund RKE, Mead, Williams optics, etc. I really like the Ortho and RKE for planetary. The RKE has great contrast, detail, and is very bright. I like Televue also but, to me, the price is not justified.

Enter the Burgess planetary eyepiece. WOW! The view is breath taking through the 4mm. Wide field of view for a short focal length. Pinpoint focus of mars with all the detail. (I used a William Optics 66mm apo for my viewing on this night.) Eye relief is about 15mm - very comfortable. Black backround contrast. Build quality is as good as it gets with no fat. The screw up eyecup is silky smooth. The 6mm is just as great as the 4mm.

Okay I know this is not a very tech-talk review. That is because these eyepieces make me emotional and that is what this is all about for me. The view! You owe it to yourself to try one of these eyepieces. If they were $300.00 I would have raved about them. At $99.00 I can only say run to your Burgess dealer and buy one. These are going to turn the rest of the astro industry upside down. I can not fault this eyepiece in any way. Even the box it arrived in was nice. I have never seen the Mars polar cap as I have seen it with these oculars. If you see a bad review don't believe it. They are the real deal. As for me I will be waiting for more sizes and selling my UO orthos on Astromart. Thanks for reading. I hope you find one of these and I know you will feel as I do.

Addendum:

I will add that when comparing the 6mm Burgess to my 6mm UO ortho once again the burgess was the clear winner. Color is much richer in the Burgess. The UO seemed some what washed in comparison. As the other reviewer stated, comfort is first rate. You can enjoy the wider field without sticking your eye to the glass. The image is sharp from edge to edge. I found myself wanting to view for longer periods of time when I was looking through the Burgess. I am not knocking the UO ortho, its just that I feel it finally has been out-preformed by a better ocular. Sure the Burgess is just slightly more money but its worth much more when you view with it.

Lunar views you must behold for yourself as words can not fully describe how great these eyepieces are. Contrast is once again very good. Details jump out at you as opposed to looking for them. Focus is just a touch of change as the oculars are parfocal. Crisp, bright image! Once again I want to view longer then normal. Maybe its just my excitment about the product, but I think I am finding more detail on luna then I've ever seen.

By the way I have been interested in astronomy for about 30 years. I have never felt the need to write a review about a product before now. I have no relation the Burgess. I'm just glad someone out there is more interested in making great products, then getting rich selling them to us. I feel that Burgess optical has a true love for what they do and really want to make awesome affordable! Hopefully Burgess optical will rub off on some of the other makers of fine optics. If not, I feel they will be passed up on all fronts very soon if these optics are any indication of whats to come. Clear skies everyone!!

Telescopes, Astronomy, Binoculars