From the
ATWB Customer Gallery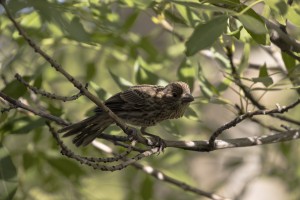 Paying attention
CG5 mount (aka EQ5)
It's about a year and half that I have owned this mount (which replaced the precedent Astro3(small mount) by Bresser Skylux).

I bought it used, with dual tripod (aluminium and steel ones).
I've not found a big defect, only a bit of backslash on RA axes.[the mount it's identical to the so called EQ5 mount of other brands like Skywatcher, Ziel, etc.]

The mount seems to be very heavy and robust, in particular if you come from an EQ2, EQ3, Astro3 mount and similar.
The equatorial head has a bar for counterweight, with a thread and a cone block.

On the lower part of the bar there is a small screw to stop eventual fall of counterweight on the floor.

The two axis (RA and DEC) could be blocked with the two small lever copied from the ones of the Vixen Gp mount (of which the EQ5/CG5 mounts are clones).

The two motors are mounted on a special slot and work with gear wheels.

The RA motor is situated on the lower part and is protected with a plastic box.

The DEC motor, instead, is unprotected (on my mount it is not) and you must pay attenton to the RJ plug for the handpad, 'cos it's simply solded on the motor so it's fragile.

The CG5 mount also has the option of a polar scope, very useful if you wanna make a correct polar alignment and it's collimatable using some small screws.

Unfortunately there's no polar scope light, but lots of astro amateurs have made DIY solutions to resolve this small problem.

The handpad for motor movement presents the classical directional button and the possibility to change AR movement (north - south) and the motor's velocity.
The mount uses 6V and the battery must be plugged into the handpad.

The CG5 is very good for an ota of medium weight. It could support well newtonian telescopes of 150mm and refractors of 100-120mm. I've used it with the light ETX90 and 80ED that allow to use the mount really well.

It's also possible to modify the handpad for autoguiding. See shoestring astronomy.

I have regulated the RA backslash (it was a small problem when the RA axis had to be inverted) , and it's not a difficult operation, which could be made by anyone without problems. You've only to be patient.

I'm very satisfied with this mount. The only other thing you could desire would be a goto system to center the most evanescent sky object, but from all points of view it's very affordable and accurate.

Maybe if your finances afford it you'd consider the CG5-GT or the fantastic Vixen GP.


Telescopes, Astronomy, Binoculars