From the
ATWB Customer Gallery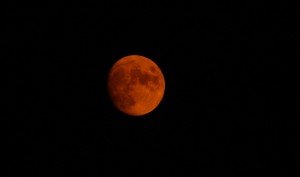 Disco Inferno
EON 120 Reveiw
It seems hard to find good information on the EON 120 refractor by Orion. I spent hours pouring over the scant data available before parting with my hard earned treasure. The EON is either praised by proud owners, or knocked by the jealous speculators. There is very little hard quantifiable data on the EON 120. I didn't intent to do a review on this scope when I purchased it, I just thought I would go through life the proud albeit silent owner of this gorgeous semi-apo. However, I feel compelled to share my experience with others in the cloudy night community that are contemplating purchasing this scope. I am an amateur telescope maker, and as such have some rudimentary understanding of how different optical trains should perform, and how to test them. After testing over a period of three nights, it is my opinion that this scope while beautiful and mechanically sound, is an optical underachiever.

Images of Jupiter and inspection of the star diffraction image revealed some troubling results. I tested the scope over 3 nights using a 5mm stratus eyepiece for the star test. Tests were conducted in S.L.C. 4500ft and Gypsum CO 6500ft. Several stars of varying brightness were used, and a Synta 120mm achromat of known excellent quality was used for a side by side comparison of optical performance, so the "seeing" could be factored out. All comparisons of course ignore chromatic aberration. Seeing was a Pickering 5-7, depending on the night and time. The 120mm achromat revealed a wealth of festoons during moments of good seeing, and the EON offed only hints of those festoons (same Ep and Diag). Intra focal and extra focal inspection of the diffraction images reveal a crisp bright diffraction pattern on one side of focus and a soft diffraction pattern on the other side of focus. The figure of the optic suffers perhaps from spherical aberration or correction error to an unacceptable degree. Color correction in this scope is mediocre and probably representative of the species (semi apo), color fringing was apparent in views of Jupiter and the Moon. Most observers familiar with fringing of achromats wouldn't find the residual fringing objectionable. However, my eye is a bit more critical than usual when the scope lighted my wallet two grand.

Orion has the best customer service of anyone I've dealt with in the business. And I'm using the 30 day money back guarantee to good effect. I sent the scope back to Orion today. I was convinced when I ordered this scope that the optical quality would be beyond reproach. I found that the EON is probably a good representative of it genre, inexpensive mass produced optic with good design, but varying quality from specimen to specimen. I am a demanding astro-consumer in the sense that I obsess over the quality of the optics I purchase, I insist that the manufacturer live up to its promise of excellence. For me the superior mechanics and aesthetic beauty of the EON 120 are moot. I spend much more time looking through my instrument than at it. I spend sometimes more than an hour at the eyepiece waiting for the fleeting moments of good seeing when I can perhaps see a bit further into creation than I ever have before. The quality of the implements of our hobby is our hobby. A few good instruments of excellent quality allow us as observers to hone the subtle skills that allow us to see more of God's creation. An instrument of dubious quality will only frustrate us with the unnecessary handicap it places on our development as observers of the heavens.

Clear and Steady Skies,

Christopher R. Palmer

100mm Synta achromatic refractor
120mm Synta achromatic refractor
12" Intelliscope (extensive mods)
6" Mak
8" homemade dob
And much more......


Telescopes, Astronomy, Binoculars