From the
ATWB Customer Gallery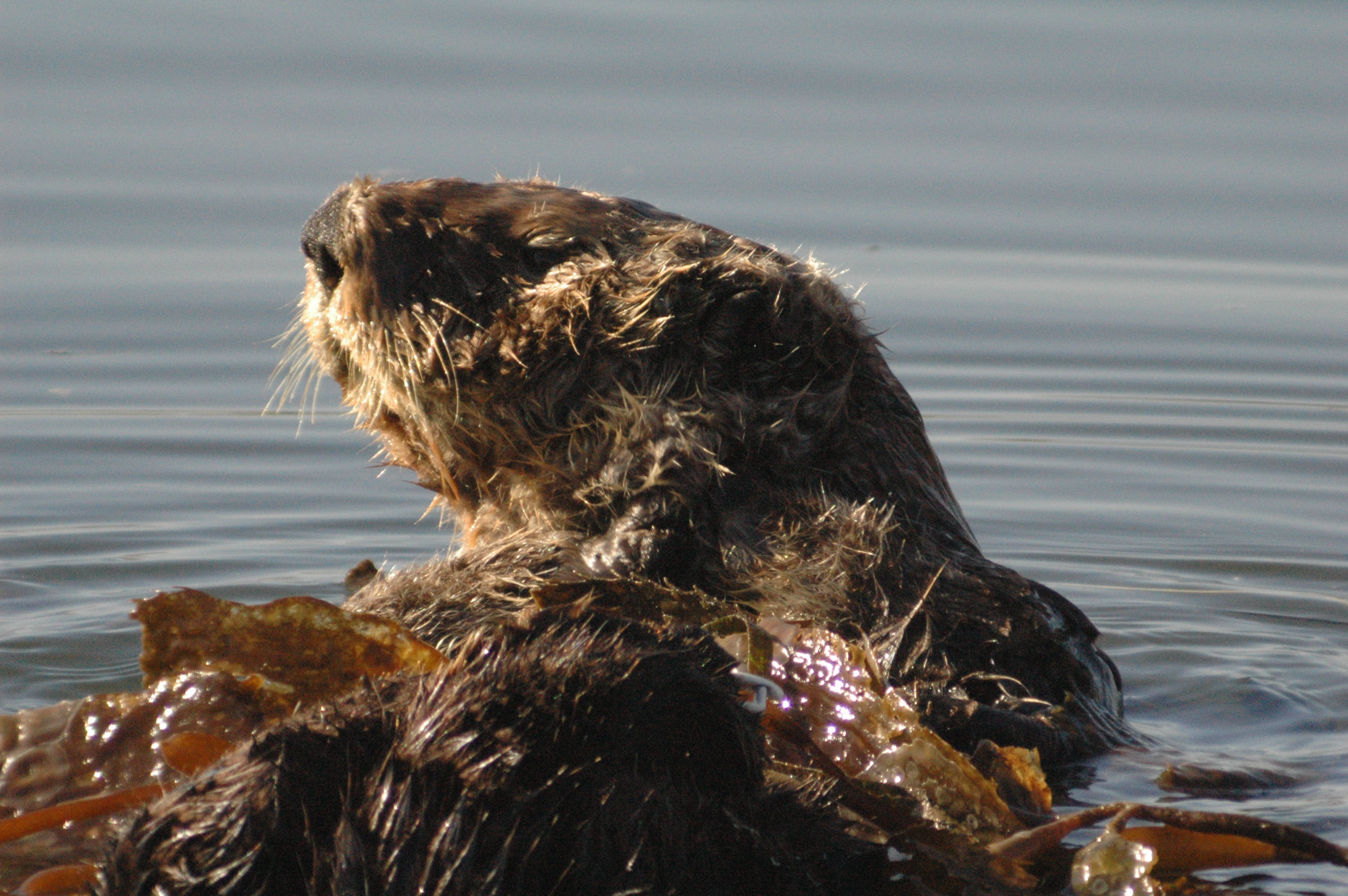 Southern Sea Otter
Meade 127MM ED Semi Apo Refractor
Review on the Meade 127 ED APO Refractor
My Astronomy Experience
The first telescope I owned back in the late 60s was a cheap department store 50mm refractor with a tiny metal tripod. I used to put it on the roof on my father's car and look at the moon. But it wasn't until about 6 years ago that I really started observing. Since then I have owned an 80mm refractor, an 8" DOB, an ETX 90, a couple of 8" SC, Meade LX-50 Mak 7 and a. Since my main interest is planetary observation I always wanted to acquire a high quality refractor, so I looked at the Meade 127 ED F9.3, 1140mm APO refractor. From what I have read and heard these scopes can be real performers. Not as expensive as the fluorite Takahashi APOS or Televue the Meade refractors uses a lens made of ED glass mounted behind a Lens of regular BK4 glass to cut down on chromatic aberration. The trick of getting the best out of the Meade is proper collimation and centering of the lenses.
The Telescope
The 127ED OTA sells new for $1700 and is produced by Meade in the U.S as special order only. Rumor now has it that Meade will soon stop producing their APO line . I was able to find an OTA used on Astromart for $1300. I sent a check and good to the seller's word the scope arrived VIA UPS in good shape about a week later. The OTA included with it a 8x50mm finder the mounting cradle, a 2.7 rack and pinion focuser and a 2"diagonal with a 1.25 EP adapter. Total length of the OTA is approximately 47". The dew shield is made of aluminum and is approximately 6" in length and is held in place by a single hand screw. The plastic dust cover fits in the dew shield over the lens assembly. If one wants to collimate the scope they must remove the dew shield to get to the lens collimation and lens centering screws which are located in the front and edge of the lens cell. The OTA itself weighs in at approximately 22lbs to include diagonal and mounting cradle.
This scope is very portable. For the time being I have the scope mounted on a Meade LXD-55 goto mount (approx. cost of mount $500). This mount is supposed to handle the 30lb AR6 F8 6" refractor that Meade sells as a combo. In my opinion the 127 mm ED/LXD 55 (stock tripod) combination is barely sufficient for visual observation. May be their new LXD-750 mount will better handle this scope. If someone else decides to try this mount/scope combo, I strongly recommend a set of sturdier wooden legs or a metal pier to replace the light aluminum ones provided. This would make observing easier and cut down on vibration dampening time. The goto works great once aligned. The lighter TAK F102 APO would make a great combo for this particular mount. Once set up on the mount the scope looked beautiful. I was ready for first light. One thing I did notice though was the lens glass being very dirty and lightly stained; A sign of lots of years of good use.
First Light
On the first night of observations I set up the scope and quickly aligned the mount and began playing with the goto. Viewing conditions were fair. My first target was a DSO M57. Using a 32MM Meade 4000 EP the target ended up in the lower end of the FOV. Even though I was not observing from dark skies the donut smoke ring was there. My next target was M32. It showed up as a small light smudge. Bumping up the power helped a little bit but I could not expect too much from a 5" refractor. The scope's 2.7" focuser was not the smoothest to use but I could detect no backlash. I would recommend an electric focuser for that extra fine focus at higher powers. My next target was M42. Here is where the refractor shined. Using an Orion sky block filter and a 32mm EP I marveled at the gas cloud that filled the FOV. Having never viewed M42 from a quality refractor I was surprised at the clarity and pinpoint star images. Not bad as a DSO instrument for its' size. About this time the clouds over Northeast Florida (St Augustine) rolled in and ended my brief session.
The next night and observing session, I decide to devote to the planets. The sky was crystal clear. Pointing the scope to Jupiter, which was at about 35 degrees relative to the horizon, and using a 15mm Meade 4000EP I could only detect 2 belts on the planet. I tried more power but to no avail. I could not bring the planet into fine focus and all I could see was the atmosphere boiling in the FOV, which I took as atmospheric turbulence. I estimated sky-viewing conditions to be poor, between 3-4. I looked at Saturn, there the image was slightly better but I could not see Cassini an easy test on any 5" refractor. I did a Star test but the atmosphere was just too unsteady to tell if there was a collimation issue. The vibration factor was also bad. The mount had been set up on grass and the flimsy aluminum legs were causing vibrations on the Richter scale at high powers. So I packed up and quit for the night.
Since this scope had never been cleaned or serviced in years, I decided to pay the $100 that Meade charges to service the optics and collimate the scope. Additionally for that price, Meade also installs the collimatable lens cell that they had started using on their newer model APOs or on any older models that they receive for servicing. I paid Meade $100 and sent the scope to the factory for service. Five weeks later and after a few telephone call and emails to Meade the scope arrived. The lens had been cleaned and the focuser oiled. I hoped the collimation had withstood UPS.
2nd Attempt.
A few nights later the skies over north Florida had cleared and I was ready to put the Meade through its paces. As soon as the sun went down I set up the mount and scope on a cement surface for added stability and was ready to go. I had left the scope outside for about 30-45 minutes to cool down. . Cool-down time for this scope is anywhere between 30-60 minutes. I do store the scope in my unheated garage so this definitely cuts down some on the time factor. Additionally in a very humid environment such as Florida, after about an hour of observation the objective does tend to dew up.
After a quick 2 star alignment the mount goto slewed to Jupiter, which was almost dead center in a 26mm Meade 4000 EP. The atmosphere was rock steady and viewing conditions were very good. Sky transparency was about a 3. I could see the planets 2 equatorial bands very clearly. I bumped up the power using a 10.5 Televue Plossl and put the planet in focus. Here is the where the 127Ed started to perform. The planet was a creamy white color with no obtrusive color, at least to my eyes showing anywhere on the planet's limb. I could clearly see the North and South belts (light orange hue) and make out the GRS. I could barley see a hint of more markings. I quickly changed eyepieces and installed a Meade 6.4 4000 EP giving approx. 178X. Now I could clearly see the GRS and make out some structure inside it. In short, during brief periods of good seeing I could see more marking and belts in the Polar Regions. I decided to see what the scope could handle so I installed a Celestron Ultima Barlow with a 10.5 Televue Plossl eyepiece for approximately 210X. Just about this time a shadow transit was in progress across the planet's surface. The moon showed up as a clear distinct disc as it emerged from the limb of the planet. All 4 moons did show up as clear albeit tiny distinct discs. Over all the Meade was providing excellent color correction even at higher powers. Attempting to get more power out of the scope I swapped the 10.5mm from the Barlow and installed the 6.4 EP giving the scope approximately 356X. At this power the image began to break down. I could not bring the scope to perfect focus.
At this point I slewed the scope to Saturn. Using only the 6.4mm EP I could clearly see the Cassini division going all around the planet. Knowing that Saturn could take more power I installed the Barlow with the same eyepiece. The image was a little dim because of the barlow but the scope focused perfectly to the point where I could clearly see the rings shadow on the planet and could make out some of the cloud banding and I thought I could barely make out the Olivine cap on planet's top pole. I think if I had a top quality eyepiece or a 3X Barlow and a steadier mount I could have used even more power. One problem I did have was after being cleaned and oiled by Meade the focuser tended to slip out of focus when the scope pointed above 45 degrees relative to the horizon. I quickly remedied this by using a small Allen wrench to lightly tighten the tension screws on the focuser.
I have since used the scope on several more nights and depending on the sky conditions, the scope has performed consistently on the planets. What I have noticed is that the scope does not perform very well at higher powers if there is atmospheric turbulence. As for spurious color on bright objects, I only noticed a very light hue of purple when observing Sirius. If I had not specifically looked for it I would not have noticed it. There is no comparison with this scope to an achromat. There was always some evident color when I used to observe with my old Celestron 80mm F11 on bright objects. I have never had the satisfaction to observe through a high quality color corrected refractor such as a Takahashi or AP but color correction for a moderately priced ED scope such as the Meade is excellent.
Summary
My only real negative about this scope this scope, is that I wish it were a 6" or even better yet a 7"Meade ED. If I do decide to keep this scope I do need to get a stronger tripod or better mount. For low to mid power observation a stock LXD-55 mount works okay but if you want to take photos or use high powers on this scope then at minimum an Orion Atlas (EQ 6) is needed in order to avoid vibration. Another negative could be collimation issues. In order for the Meade ED'S to really perform, as is the case with all refractors their lenses must be properly centered and collimated. For someone new to the hobby this might seem to be a rather daunting task. If anyone is interested the Meade Yahoo forum refractor group has with the help of some of its' more mechanically inclined members and owners of Meade ED refractors, made a very useful Collimation manual (found in the file section at:
http://groups.yahoo.com/group/meade_refractors/?yguid=107374935
for this telescope which outlines the steps that must be taken to collimate this type of refractor. The manual can also be used for your basic Synta refractor with a push pull lens cell. I do highly recommend it for anyone that decides to acquire a Meade ED refractor. This Telescope performs excellently on the planets. It compares close to a Meade Mak 7. It is also not a bad DSO performer for its' size of 127mm. The only limitations is it's size of 5". You will see more DSOs with a 8" SCT.
Price wise for what it can be picked up used on the market (astromart), this telescope is a bargain. Will I keep the scope? Probably not as with most amateur astronomers I like to buy and test different scopes. (I would love to try a AP refractor or a larger Mak). If I had a bigger budget I would buy the Meade 150mm ED and mount it on a G11. This would be my keeper refractor as it would be on the limit of portability that my sore back could handle. Would I recommend this scope? Most certainly.
Click here for more about the Meade 127ED OTA. -Ed.

Telescopes, Astronomy, Binoculars