From the
ATWB Customer Gallery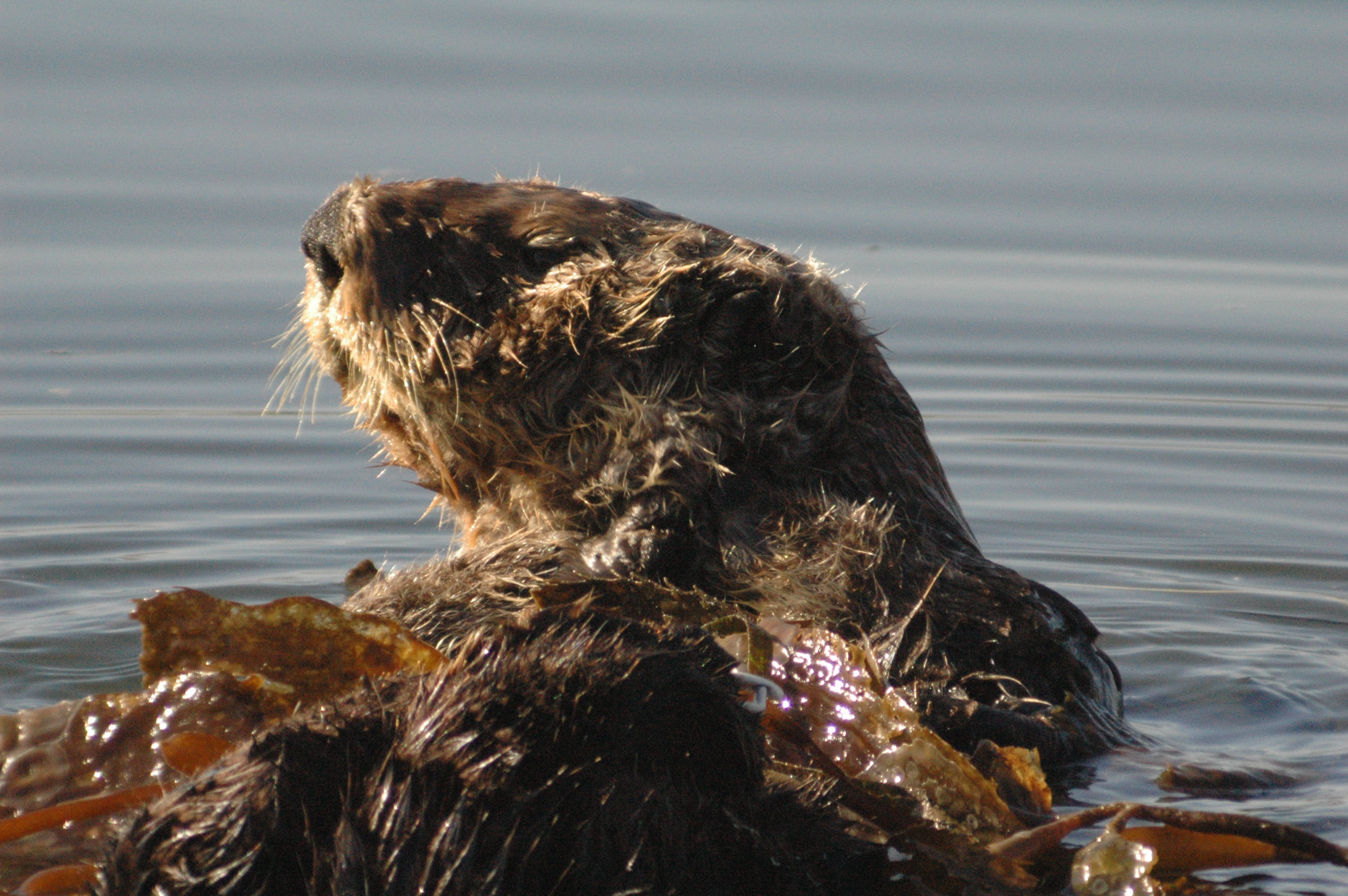 Southern Sea Otter
Orion 80mm ED Refractor OTA
Specs and Features List
Primary Lens - 80mm with "One element ED glass in apochromatic primary lens"
Focal Length - 600mm
Focal Ratio - F7.5
Focuser - Crayford 2" focuser & 1 ¼" adapter.
Lens Cell - Machined aluminum
Weight - 5 lbs. 11 oz.
Tube length - 23.5"
Price - $499 + shipping (February, 2004) for the OTA only
Comes incomplete with just the optical tube assembly (OTA). There is no finder, no diagonal, no mount, not even any rings to attach it to a mount.
Mechanical Aspects:
The OTA arrived wrapped in bubble wrap and double packed in cardboard with stiff foam packing too. It was delivered in perfect shape, and the quality overall is a little better than the typical Chinese refractor. The tube is finished in what Orion calls "gunmetal gray metallic enamel". The dew shield is plastic, and slides on and off a machined lens cell; it is a good snug fit. There is a plastic lens cap that fits on the end of the dew shield with a smaller cap that fits a smaller reduced diameter mask. This is the same arrangement as a C102 that I owned previously. You can shorten the whole OTA assembly by about 5" by taking the dew shield off, but there is no cap to place directly over the lens and its cell, so I wouldn't advise it unless you can come up with a safe arrangement that doesn't damage the lens. There is no way to adjust the collimation of the lens. The documentation states that it has been collimated at the factory, so if there is a problem you will have to send it back to Orion. The 2" crayford focuser is very smooth. There is a small thumbscrew that allows you to adjust the tension of the focuser. Overall, I would say it's a good focuser. It is not a JMI, Moonlight or Feathertouch for sure, but it is better than the rack and pinions that ship with most Chinese refractors. Unfortunately the focusing assembly is not attached very well to the tube. When I hung my SBIG CCD off this telescope, the entire focuser began to wobble. There are 3 screws that hold the assembly captive within the metal tube. These had come loose and needed to be tightened. This process affects collimation, so it needs to be done outdoors when a star is available for collimation. There is also a 1 ¼" eyepiece adapter included. It is tapered on the 2" side, so it will be held more securely than those that are not. To secure an eyepiece, there is a single thumbscrew. This may mar your eyepiece tube, so for that reason I prefer the locking collar type mechanism. There is also a dust cap over the 1 ¼" side. The adapter is machined, but arrived a little dinged up. It is not the highest quality adapter out there.
Mounting:
Orion sells suitable rings to mount the OTA, but this particular scope is mounted piggyback in my observatory so it is simply held in a pair of guide-scope rings. The entire rig is permanently pier-mounted on a Losmandy G11 mounting. There is also a small machined block with ¼" - 20 threaded tap on the underside of the OTA for mounting on a standard tripod block, but I wouldn't try to mount the tube like this as it simply isn't rigid and secure enough. Orion also sells a package including a small equatorial mount for this OTA. I do not have any experience with that mount.
Other Required items:
Besides mounting the telescope, you will also need a good star diagonal and finder scope. I purchased a 2" William-Optics diagonal that is a very high quality, well-made device. I definitely recommend a 2" diagonal for this telescope for great wide-field views. As far as a finder goes, Orion sells a number of finders that will fit the dovetail mount that is built into this OTA. There is one other option, and that is skipping a separate finder and simply using a low-power eyepiece with the OTA for finding objects. For example, with a 2" Pentax 40mm eyepiece that I use I get exactly 4 1/3 degree field of view (FOV), so that is adequate for any need I have. However, you will need to change eyepieces for actual viewing, and this may not be convenient for you.
Visual Impressions:
I spent a few evenings viewing through the telescope to get my first impressions during January and early February 2004. The moon was waxing gibbous, and Saturn was also riding high. This made for a perfect opportunity to evaluate the optics.
For the record I will give my observing conditions and experience. I have been an avid observer for 18 years. I have owned mostly Newtonian telescopes, and built several of them including optics myself. I currently own a 20" Dobsonian with a very well figured Steve Swayze mirror. My other regularly used telescope is an 8" f5.2 Newtonian that is an everyday visual & photographic scope with self-made optics. I recently sold a 4" C102 achromatic refractor that gave great images, but showed moderate chromatic aberration. I live in moderately dark skies (magnitude 5.5) and do a lot of deep-sky observing, but love planetary observing as well. The 20" is remarkable on the planets and a few times I have visually seen detail on Jupiter's satellite Ganymede with the telescope.
That being said, I will start out by saying this is an impressive 80mm optical system. Despite the focuser attachment problems, the telescope was nearly perfectly collimated. I can only see a little miscollimation while in-focus and observing the airy disc. There is really no way to tweak this level of collimation, so this is where it will stay. The intra and extra focal stellar images are symmetrical, and show a very good overall correction. Very minor astigmatism was detected that I don't think will be detectable on a focused image. Stellar images are very tight with an easily discernable airy disc. When using a 20" telescope for as long as I have, you forget what that disc looks like. The stars are not pinpoint, they are round… just as they should be for this size telescope. I viewed Castor and had a beautiful view of the 2.1 arc-second separation of this double-star system. I am not a double-star guy, but this scope should easily do a lot better on double-star resolution than this if you're into it. I can say the image was wonderful. I have not done any critical "bright-star" evaluations to determine any false color from the lens. I have simply used the telescope the way I use telescopes all the time and have not seen any color at all. Viewing the moon from 15X with a 40mm Pentax XL all the way up to a 240x with a 5mm plossl & 2X barlow showed absolutely no false color at all. I viewed the largest crater (near the center of Plato) easily w/ a 9mm Nagler eyepiece at 67X. At this magnification no detail was discernable, but it could be identified. At 240x the crater could be more easily observed, but none of the others were visible. Turning to Saturn, it became obvious that this is a scope that I will be reluctant to part with. The image was sharp… tact-sharp. I can already tell that am going to become an apo fan. Cassini's division was sharp all the way around. There were several bands on the planet. The moons were present. It was everything you want out of a great view of Saturn. I will be the first to admit I miss the massive bright planetary images of a 20" with a focal length over 100", but this provided a view that is nothing to scoff at for $500. I observed with 40mm Pentax XL, 30mm Ultima, 12mm Nagler, 9mm Nagler, 12mm plossl, 6.5mm plossl, 5mm plossl and a 2x barlow with many of these eyepieces. This broad range of 15x to 240x is what I would call the useable limits for this telescope. At 240x the image is about as large as I could get it and have a large enough exit pupil so that my eyes weren't having a problem seeing details. The optics did not give out at 240x either. The lunar and planetary images at this power were excellent. I have not spent a lot of time on deep-sky objects. Try as I might, I could not get my Denkmeier Standard Newtonian binoviewers to come to focus with the William-Optics diagonal. There is simply not enough in-focus. If I took the diagonal out, the unit will come to a focus, but there is no way I will observe like that. Denkmeier sells different Optical Correction Systems (OCS) to deal with different telescope configurations, so a refractor OCS will be required. You should contact Denkmeier directly for questions. I should also mention that the telescope just barely focuses my 1 ¼" eyepieces. I would estimate less than ¼" additional in-focus is available on average. When using my barlow I had to insert it dangerously close to the first-surface mirror in the diagonal to get it to a focus. It did, however, come to a focus. I just wish there were about 1" extra of in-focus travel.
Imaging:
I have not fully assessed this OTA for imaging. It will be a great low-power fit for your CCD needs providing that your pixels are small enough. My SBIG camera has 9 micron pixels that will provide about 3 arc-seconds/pixel resolution. That is probably about as large a pixel as you want to use, but should be just fine. Preliminary images show a lot of potential. I am very impressed with the increased FOV for imaging needs, and I suspect that's one of the things that will make this a popular telescope.
Conclusion:
Overall I am quite satisfied with this telescope. It is rugged enough for observing and imaging with a few precautions taken. The images are fantastic for an 80mm instrument. Chromatic aberrations are non-existent in the observing I have done, and the overall correction in the primary lens system is impressive in this particular example. I would like to have a few items on my wish list: 1) a more portable OTA - it's short, but too bad it doesn't come apart into 2 pieces. You could take the lens cap off, or even unscrew the focuser assembly for airplane travel; 2) a more rugged focuser assembly - maybe a JMI unit; 3) A nicer finish - overall the scope has a B finish, especially the cheesy stickers that tell you not to look at the sun. In the end, I can't imagine anybody who wouldn't recognize the value that this telescope brings. It's not an AP or a Takahashi, but then again it's not an AP or Takahashi so you can save your money and time and start observing or imaging soon at a reasonable price.
Click here for more about the Orion 80mm f/7.5 ED APO-Chromatic Refractor. -Ed.

Telescopes, Astronomy, Binoculars