From the
ATWB Customer Gallery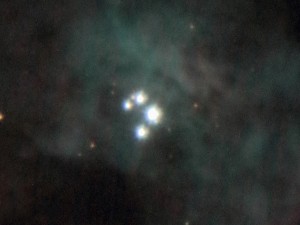 Trapezium via Siebert 36mm Observatory Series Eyepiece projection
New TeleGizmos Covers For Your Accessories
I am sure every Red Dot Finder user sooner or later experiences this malady. You are star-hoppin' happily along when your RDF suddenly winks out. You think you just ran down your thirtieth battery. Instead you discover that the finder's window is totally covered in dew. Solutions to this problem were tossed about on a Yahoo Group when word fell upon the ears, (or eyes) of Bob Pitney, owner and founder of TeleGizmos. Bob makes high quality fitted covers that have saved many a telescope and mount from the ravages of Nature. Hmmmm… a Telegizmos cover… down-sized… for your RDF...
BRILLIANT!!!
The idea of a cover for an RDF makes sense; after all, you probably spend only a minute or two looking through your finder during an observing session that may last for hours. Why not cover the RDF to keep it clean and dry while you are not using it? Unlike other TeleGizmos covers, it is designed without a drawstring and to have a loose fit so that you can take the cover on and off without disturbing the alignment of your RDF. The only disadvantage here is that in high winds, it might blow off, but under such conditions you usually don't have a dewing problem anyway. Nothing keeps the dew off of your equipment forever, but my first trial runs prove that the tiny cover will indeed help prevent dewing over and extend the period of use of your RDF, perhaps long enough to be usable throughout your entire session.
Bob Pitney of TeleGizmos has also designed a new cover to fit you 9x50 finder scope. This one, like its larger cousins, has a drawstring to keep it on even under high winds. There are added benefits to these two new covers. Users of motorized goto mounts will appreciate the ability to keep their finder scopes covered while not in use. People who do solar observing usually must take the finder scopes off to prevent possible damage, only to have to realign them the next night out. Now you can simply cover them, for the aluminized surface of the cover will prevent the finder scope from overheating or getting dirty. Below, you will see a photo of my SV102ABV with the finder scope covers set up for solar observing on a Universal Astronomics Unistar mount. (The RDF is mounted on the side of the telescope underneath the 9x50 finder.) In the photos, these covers may look heavy and bulky. In fact, the covers are very light weight and both can be folded and stuffed in your back pocket. (The TGR4, which covers my entire telescope and mount, can be stuffed in my front pocket.) In spite of this, TeleGizmos covers are very strong and durable. They have the strength of a tarp but are more flexible.
For more information about pricing, etc, visit TeleGizmos.com. The SKU for the red dot finder is TGRD. The SKU for the 9x50 finders copes (fits other sizes as well, both straight and right angle) is TGFC. You might also want to check out the TGQC, and the TGBC. The "quick cover" is designed to fit over the objective of most any four-inch class refractor, with or without a dew shield. The TGBC is for your binoviewer. It has a drawstring and is tall enough to fit over the bino with the eyepieces installed.
David Elosser
Kernersville, North Carolina
Click here for more about this subject. -Ed.

Telescopes, Astronomy, Binoculars