From the
ATWB Customer Gallery
M-5
Celestron UpClose 7x35 Binoculars on the Battlefield and the Home Front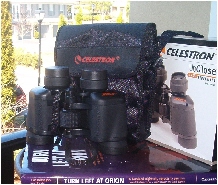 Introduction
Celestron UpClose 7x35 binoculars are low-cost compact general purpose binoculars that sell for just less than $30. They boast fully coated optics, a water-resistant, rubber covered body, and a full-sized porro prism design using BK7 optical glass.
Observer Qualifications
I am relatively new to the astronomy hobby with about a year and a half of observing experience with 60 and 70mm telescopes and inexpensive binoculars. I currently have an extremely cheap pair of 8x30 binoculars and an old pair of discount store 10x50 wide angle binoculars. Over the years, I have also used a variety of inexpensive binoculars for boating. I have no financial interest in a binocular or telescope company.
Purchase Decision
After a favorable indoor concert experience with rented Tasco 7x35 binoculars, I thought owning a similar compact pair of binoculars might be fun. Despite the warning that these would probably be a little too small for astronomy, I also figured these might be useful for a little casual observing. I secretly hoped that these binoculars would be able to fit in a jacket pocket and allow me to get all my gear to the car in one trip down to the parking lot. At $30, they were an easy addition to an Anacortes gear order.
Initial Impressions
These Celestron UpClose binoculars arrived in a thin cardstock box lined with a fold of thick cardboard. This box serves as a good means of storing them on a shelf. Inside, the binoculars were packed in an attractive but thinly padded soft nylon carrying case trimmed with a bit of simulated leather emblazoned with the Celestron logo. The case closes with a small (2-3/8 inch by ¾-inch) patch of Velcro. Celestron obviously cut some corners on the case as the strap is quite short even when fully extended. It would suspend the binoculars a couple inches above my hip. Due to the small Velcro contact patch, a user must be very careful to make sure that the case is actually sealed shut. The neck strap seems similarly flimsy. However, it seems to hold the binoculars securely when attached properly. In the future, I will probably add a wrap of black electrical tape around the strap ends to provide further in the security.
Celestron's most severe cost cutting seems to end where the binoculars begin. These binoculars are small measuring 5-inches long and 6-½ inches wide (when closed). However, they have the heft of traditional full-sized binoculars. At 24-ounces, they weigh only an ounce less than the full-sized UpClose 10x50 binoculars. As economy binoculars, they use heavier BK7 glass prisms rather than the lighter BK4 glass found in premium models. The binoculars themselves are very attractive two-tone black and the barrels are clad in rubber armor embossed with "Celestron" lettering. The barrels seem very solid and are easy to grip securely. The area around the oculars is surrounded by extra thick rubber and the rubber eyecups themselves can be rolled down for eyeglass wearers. A durable hard black plastic is used for the front plates on the barrels behind the objective lenses and to seal the rear of the barrels. Metal is used for the binocular hinges and central axle. Diopter adjustments can be made to the right eyepiece with plus, zero, and minus settings a white dot marks the starting point. The diopter adjustment is smooth and does not have a click stop. However, hinge angles are marked in 5-degree increments so that you can easily return to a given interpupillary distance. I found fit and finish acceptable but close inspection will reveal a few minute imperfections in the plastics and rubber armor.
Field Testing
I chose to test these binoculars in a variety of potential terrestrial and astronomical observing situations and record my subjective experiences. Most of my tests took place on long silent battlefields to the northwest of Atlanta and on the grounds of my apartment complex.
Allatoona Battlefield Test - Long Distance Sign Reading and Bird Watching
My first stop was the Allatoona Battlefield. It was the site of an indecisive battle during the war between the states. Fighting here over a railroad pass took over 1500 lives on October 5, 1864. Now a park, the battlefield offers a variety of trails overlooking a reservoir that was created by the Army Corps of Engineers in the 1940s. I took a short hike into the nearby woods and tested the Celestron binoculars on a faded gray historical marker. I found that I could just read the black lettering on the historical marker from about 125 feet away. Next, I took a seat on the reservoir dam and spent about 20 minutes observing people and small sea gulls fishing and a few intrepid boaters out on the lake. According to Celestron, these binoculars have an 8-degree angular field of view and a linear field of view of 419 feet at 1000 yards. The wide field of view on these binoculars came in handy as I could easily follow the birds erratic movements as they circled, hovered, and dove for fish. Despite the advertised 11mm eye-relief, I found that these little binoculars offered the best views with the eyecups pressed tightly to my eyes. I was pleased by the amount of detail I could see. Even though the birds were easily a couple of hundred yards away, I could see their gray backs, the white trailing edges of their wings, and their black wingtips. It was enough detail to identify these as "Little Gulls" on a Georgia birdwatchers website.
Brushy Mountain Line Test - Close Quarters Bird Watching and Aircraft Watching
As I worked my way back towards Atlanta, I stopped at a Kennesaw apartment complex that maintains a short walking trail up to a small portion of trench works on top of Brushy Mountain. The 50-feet of trenches that remain on this hill were once part of a vast network of defenses that stretched for miles and included nearby Kennesaw Mountain As I hiked the deceptively steep little trail, I kept my eyes open for birds. When I paused to catch a breath, I saw a small bird that I thought was a sparrow. Turning the little binoculars upon it, I was astonished by the crisp views that I got. It turned out that it wasn't a sparrow. But, it did have a solid colored back and darkly flecks on its chest. From a distance of about 30 feet, the flecks really stood out. The view through the binoculars rivaled something from a nature magazine or some of the fine pictures provided by the Astromart forums nature photographers. I was only about two hours into my new bird watching hobby, but the UpClose binoculars had me off to a good start.
When I reached the mountain top, I took a few steps off the trail and found a big rock to sit on beneath some power lines. To one side, I could see Atlanta's skyline and to the other I could see a car dealer, some shopping centers, and the municipal airport in Kennesaw. As I caught my breath, a Robinson R44 helicopter roared over the mountain top and approached the airport. As I tracked it, I was distracted by occasional reflections in the eyepieces. The sun was getting lower in the sky and I was learning that their might be a difference between the fully coated optics of the UpClose series and the fully multi-coated optics of premium binoculars. However, I was soon able to watch it come to a hover above the runway and then slowly move to its landing position. I spent about 15 minutes watching a variety of small aircraft taxi and take off.
Marietta Confederate Cemetery
The final stop in the daytime portion of my testing was the Confederate Cemetery in Marietta. As tourists were parked by the Confederate Army burial sites, I simply drove through the dirt lanes of the older part of the cemetery. About midway through, I spotted a robin emerging from the underbrush to drinking from a large puddle about 25 yards away. When I rolled down the window and raised the binoculars to my eyes, I immediately saw that an avian family of four was enjoying the sun light and water supply. They were very noticeable in the wide field of the binoculars.
Kennesaw Mountain Battlefield
After dinner, I drove back up towards Kennesaw in hopes of finding a dark site to see how the little Celestron binoculars would fair looking towards astronomical targets. I was fortunate to find an unlit area between a new development and the battlefield. Railroad tracks and trees screened me from the development and the there were no streetlights or houselights in site. Despite Atlanta's light dome, I was amazed at how many more stars were available under darker skies. I could easily focus the stars to pinpoints by closing my right eye and focusing with the focuser wheel and the closing my left eye and focusing using the diopter adjustment. The binoculars were easy to handhold for a few minutes. However, I could easily see how the tripod adapter on the front would come in handy. Despite their limited 35mm aperture, the Celestron binoculars dazzled me with Pleiades, the nebulas of Orion's sword, an obvious Saturn, and the Beehive nebula.
On the Home Front
Unfortunately, I was dazzled in a different way when I observed from home with the UpClose binoculars. While they worked well in the darkness of the Kennesaw battlefield, they did poorly on the very light polluted grounds of my apartment complex. In the pool and tennis court area, bright light from my periphery easily infiltrated the eyecups and reflected off of the eyepieces. Once I cupped my hands between the light source, my eyes, and the eyepieces, I could see much better. But, I always had to be wary of streetlights adding to the glow from above. Nevertheless, I was able to pick out the same astronomical targets, but viewing wasn't quite as much fun. A week later, I even tried observing the waxing crescent moon from my second story balcony and was greeted to a kaleidoscope of shiny reflections courtesy of the moon and strong streetlights in the parking lot. To put these binoculars to astronomical use, I'll have to find a darker observing place. Fortunately, most observers won't choose to observe from a location where dozens of pool lights or strong streetlights compete for the night sky.
Pros
Amazingly low price!
Compact-size
Good terrestrial performance for the price point
Durable construction
Cons
Cheap accessories
Low level of optical coating
Inability to deal with severe light pollution
Insufficient aperture for serious astronomy
Conclusion
The Celestron UpClose 7x35 binoculars offer a fair value proposition at their $30 price point. They are durable, ergonomically easy to handle, and perfectly acceptable for less demanding terrestrial applications. These UpClose series binoculars can fit any budget and any car's glove compartment. While they aren't really intended for astronomy, they can be pressed into service for casual observing from dark locations. However, if street lights lurk nearby, beware. They simply must be shielded from strong light sources. The UpClose binoculars were fine for astronomy on empty battlefields, but disappointing on the well-lit home front.
Click here for more about this subject. -Ed.

Telescopes, Astronomy, Binoculars