Arcturus 2" 20/30 Convertible Eyepiece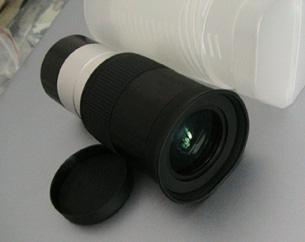 I won this eyepiece at a star party and I tried it out last night and let me tell you something it is a beauty to view through. This eyepiece and the company "Arcturus Optics" is just now coming up but you can tell that they will be a hit.

This eyepiece is a 20/30 convertible eyepiece. At 80 degrees field of view its a wide one. The way the 20/30 works is that in the picture I have included the bottom black part at the end of the eyepiece is actually a 1.5x barlow so as in the picture the eyepiece would be a 20mm 80 degree. If you take the barlow off, it will be then a 30mm 80 degree. You can also use that barlow on any two inch eyepiece or while your doing images on saturn or jupiter you can put this on your diagonal and it will be like having a 1.5x barlow on the camera instead on the diagonal. You can use it in any two inch eyepiece.

Now to the observing part. I was observing the Ring Nebula, M57, and with the barlow on you could see great color. With the barlow off it is just unbelievable how wide field this thing is. This eyepiece delivers great contrast and brightness on the objects. Saturn was great through this. My friend has a Meade 8.8 and you saw more through the 20mm than the 8.8 because it was bad seeing.



Telescopes, Astronomy, Binoculars