William Optics UWAN 28mm - My Experience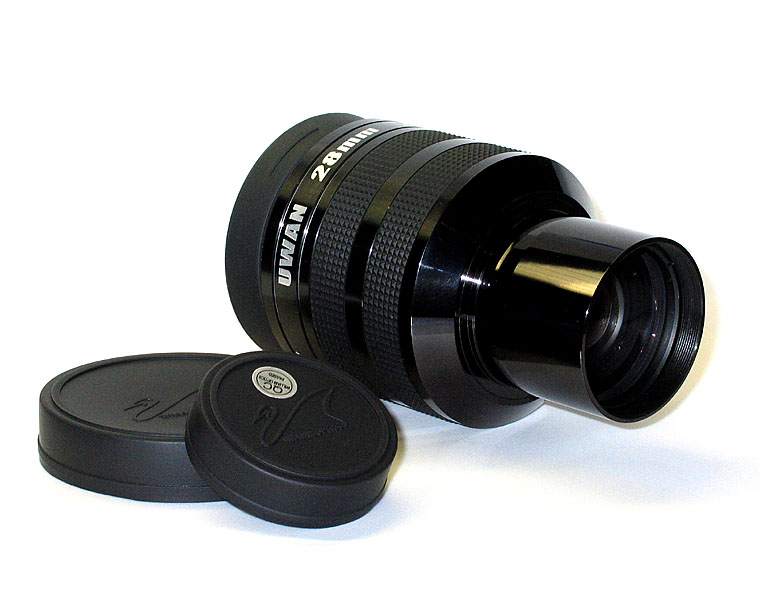 I have always hesitated to offer a "review" of a product, mostly because despite 15 years or so in this hobby, I cannot claim to have a huge breadth of experience using wide variety of equipment. I have not attended big star parties, or live in place where there are large numbers of active astronomers using the mix of equipment that would provide a chance to compare and evaluate. It always seemed to me that a reviewer should have those experiences to offer a definitive judgment on a reviewed product. With all of that said, please let me just offer a recounting of my experiences with the William Optics UWAN 28mm eyepiece.
I became interested in a wide field, low power eyepiece for my 13" f4.6 reflector about a year or so ago. At the time I had picked up a used 16mm Type 2 Nagler after exclusively using plossls for many years and was bitten by the wide field bug.
Let me say that my predisposition was in favor of Tele Vue products. I had used their Plossls, Barlows, and a Pronto for many years and had never been unhappy with any aspect of their performance. In fact my eyepiece collection was nearly 100% Tele Vue after winnowing out other lesser performing eyepieces over the years. So to say that Tele Vue had the inside track on this new acquisition was no understatement.
I was considering the 35mm Panoptic and the 26mm and 31mm Naglers, and was reading everything that I could find on these eyepieces.
Ultimately I decided that the Naglers were the way to go. I was still swaying back and forth between the 31 and the 26, the choice of Width of field vs Smaller Exit Pupil/Higher Contrast, but I just could not pull the trigger. Why? Six Hundred reasons. I just could not justify spending $600 on a single eyepiece, it just seemed to be too much for me at this place in my life.
So one day I heard about the UWAN 28mm. I am skeptical - the catalogs are full of wide fields, but nothing that offers the Nagler performance. So I begin the quest for information on this interesting specimen. What I find is very encouraging, two reviewers whose opinion I respect very much, Tom Trusock and Rod Mollise offer very high praise for the UWAN's, and the 28mm in particular. One of Rod's lines from his review sticks with me, quoting some of his observing partners after they had tested the UWAN vs the Nagler "Let's get on Astromart and sell our Naglers before anybody else finds out about the UWANs!"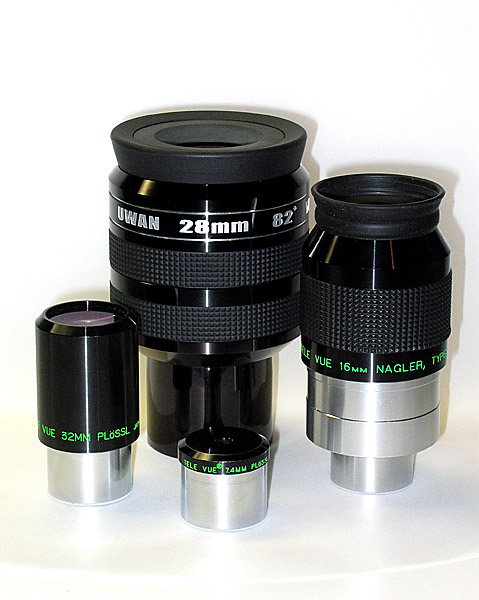 My interest was piqued, if it was this good, and just $400, it seemed a more reasonable outlay.
Of even more interest to me was the fact that they seemed to be regularly available used for $250 to $300 - that was a number that was really appealing.
It was a deal like that which finally caused me to take the leap.
When it arrived it was hard not to be impressed with the presentation. It was packaged in a rather large red and black box that opened to expose a die cut, dense foam insert, nestled in which was one of the most impressive, striking eyepieces I have ever seen. Everything about it was first class. The finish on the barrel is a perfect glossy black. The silver lettering and insignia is quite striking in its contrast. The mechanics of the adjustable eyecup is smooth and even. It became immediately clear, this was no cheap knock off, at least as far as the manufacturing of the body and mechanics.
A look at the glass exhibited what appeared to be fully multicoated surfaces every where I could see.
This is a BIG and HEAVY eyepiece - 2 lbs or so. It will require some accomodation to use it,you had better have a plan for your dob, or you will be looking at quick nosedive when you place this one in the focuser.
Weather and other responsibilities delayed the first light, but I finally got it out under the stars a couple of weeks later. I typically use a Paracorr in my 13' f4.6 and my comments here are using that set up. I did not test it without the Paracorr, as I would not expect it to perform as well and would seldom use it that way.
Here is the part where my earlier mentioned self doubts and lack of resources for a direct comparison enter the picture. Nobody I know locally owns a 31mm Nagler, so I could not make a head to head comparison -so take the following for its worth with that caveat.
Placing my eye to the eyepiece, I find that I have no issue seeing the field stop (I do not wear glasses). For me, the adjustable eyecup is most comfortable left at it's lowest position and I find that I am not contacting it fully. The one comment that I hear reqularly about this eyepiece is the size of the barrel at the eye position. It is large, but I did not find any issue in placing my eye. I find that I do turn my head slightly to accomplish this, versus a more straight on approach with more conventional eyepieces, but it is not difficult for me, and none of my observing partners had any issues with it either.
Once in, I was rewarded with a fantastic view. First on my checklist was to examine the edge of the field, and I was excited to see that there were no "seagulls" or "comets" where stars were supposed to be. To my eyes, it was sharp to the edge. In his review Tom Trusock mentioned some field curvature, so I looked for that. Comparing the focus across the expansive field, I could not detect any, it very well may have been there, but if so, my eyes were taking up any slack.
Any judgment on contrast without a direct comparison eyepiece is a bit silly, but I can say that the views that night and since have not shown any obvious issues, and when swapped with my Nagler 20mm type 2, compare very favorably accounting for the expected increased contrast from the resulting higher power.
I will admit, other than a passing glance, I have not used this eyepiece on the moon or planets, as the resulting magnification is not one that I would find very interesting on either subject. I don't have any critical evaluation to offer, but I don't believe that many people would buy this eyepiece for that purpose.
My intended use for it, and where it does excel is on deep sky. As a "finder" eyepiece it yields about 1.3 degrees at 63x (with the Paracorr) in my scope, the extra field makes the hunt for elusive objects a bit easier. Sweeping Milky Way star fields is gorgeous, tiny pinpoints of light passing through the field, sharp edge to edge. Add an nebula filter, and huge sections of the Veil Nebula come alive with swirls and knots. The huge field applied to the Virgo Cluster presents a feast of galaxies of every size, shape and brightness.
My observing partner's comments lead me to believe that they are equally impressed. It is now a nightly ritual that I must show them the Veil with this eyepiece every time we observe together - they insist.
I am extremely pleased with this eyepiece. As I stated before, I cannot directly comment on how it compares to the Tele Vue offerings, but I have a hard time imagining how it could improve much on the views I am getting with the UWAN 28mm. As I said, I am a huge Tele Vue fan, and will continue to buy Tele Vue where I think the value proposition is in balance, but I do believe that this eyepiece represents a fantastic bargain for those hesitating at the cost of competing products.
Clear Skies,
Rod Nabholz
Home Built Astronomy Projects
www.homebuiltastronomy.com

Telescopes, Astronomy, Binoculars