Captured by
RICHARD COFER
Barnard 33
Astro-Tech 8in Imaging Newtonian with Astro-Tech Coma Corrector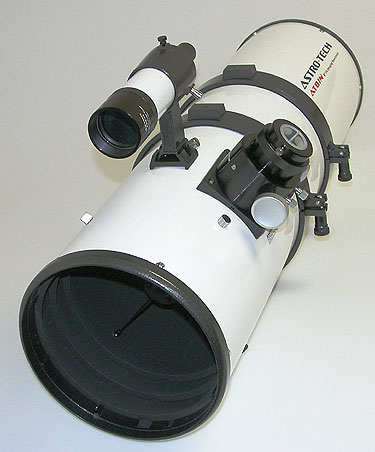 I am a cheapskate. I have been saving for 9 months to get a telescope that costs only $450. From my perusal of other reviews and articles, it appears that many of my amateur brethren have money to burn. In my case, I also have a 5 year old boy and 2 year old girl who gotta eat! So I only buy new gear after thorough research and review. I usually buy used gear from Astromart, so a new item for me is a real treat. You can skip ahead to the guts of the review a little if you don't care how I came to my conclusions. But some introduction may be necessary.
My telescope history
To prove my point of being a cheapskate, here are the telescopes I have owned:
1-- Celestron Firstscope 114 Newtonian Reflector—given to me by my wife as a wedding present.
2-- Celestron Astromaster 130 Newtonian Reflector—in trade for frequent flier miles from United Airlines. (That's about the equivalent of winning one at the county fair! Or cashing in cereal top boxes!)
3-- Celestron Travelscope 70mm refractor (my guidescope along with Philips webcam)
4-- Astro-tech 8 in Imaging Newtonian.
Dont get me wrong, I have used other scopes. You cant beat the view from a nice 80mm APO or a big-ole Schmidt Cass. I have just never ponied up the cash to BUY one.
My Firstscope came with an EQ-2 mount. It was junk. I actually tried to take an astrophoto with it using a film camera and the little DC motor providing tracking. Ahh, to be young and naïve again!
After a year of trying astrophotography with little training and experience, I slowly climbed the evolutionary learning curve. I have emerged from the primordial pool, and realized that to do adequate photography you need half-way decent equipment.
It is like Bill and Teds Excellent Adventure. In order to make a killer music video, you need decent instruments. But before you get decent instruments, you need to learn how to play. Which is why you need Eddie Van Halen. Before you can take excellent astrophotos, you need a decent instrument.
So I have scrimped and saved, and done my research. Here is my imaging setup.
Celestron AS-GT (CG-5) NexStar computerized tracking mount
Small refractor guide cope with USB webcam
USB to Serial cable plugged into NexStar hand controller on mount
Laptop computer running Windows XP
Canon Digital Rebel XT DSLR camera
PHD Guiding software, yes it is push-here-dummy easy to use
Nebulosity imaging software
AND NOW…. Astro-tech 8in Imaging Newtonian telescope
Why buy the Astro-Tech OTA? I experienced much frustration with my Celestron Astromaster 130 tube. It has a rack & pinion 1-1/4 focuser that just couldn't handle the camera. The optics and focuser are nearly identical. I even thought about adding an after-market focuser, but why put a $175 2 inch focuser on a tube that does not measure up.
A potential upgrade is the new Vixen 130 Newt, but it is just a lateral move from the Astromaster. It also has an R&P 1-1/4 focuser that doesn't have the back focus for prime-focus photography. I also thought about buying a used OTA for around the price of the focuser, but I saw that would be an endless cycle of putting up with inadequate gear.
When I finally came to my senses and realized the Cheapskate OTA just wasn't cutting it, I went on a selling binge. I offloaded my Astromaster; I sold every eyepiece that wasn't regularly used; I sold my a-focal camera bracket and every other troublesome accessory. I also saved up lunch money by fixing peanut butter and jelly instead. (no lie!) Finally, I had my $450.
Buying the Scope
My plan was to just get buy Astro-Tech OTA and I would be set… Ahh, the details. This scope is an f/4, which is very prone to coma. So I needed a coma-corrector—another $135. The scope comes with tube rings, but no dovetail bar. So there's another $30. I had an old gold college class ring and the price of gold is good… so I sold my class ring to pay for the coma corrector. Hope it's worth its weight in gold!
Also, there is the cost of shipping… fortunately I live near Norman, OK. I just got in my car and drove to Astronomics to pick it up, saving a chunk of change on shipping, but losing some in sales tax.
On the drive home from the store, still feeling the new equipment buzz, I notice it was a perfectly clear night. I was very excited at the prospect of cracking open the box and lighting her up!
Not so fast! The Astro-tech dovetail bar I bought at Astronomics didn't come with screws! Neither did the tube rings on the scope! I know this scope is an economical choice, and a great bargain, but no screws?! Seriously?! So I had to run to the hardware store to buy screws. It was late on Friday night, and the delay nearly ruined my first clear sky.
Also, the coma corrector didn't come with a large enough spacer to fit my Canon DSLR. I thought this was ridiculous since the Canon camera body is very popular among amateurs. I thought they would have thrown in a spacer that would fit this ubiquitous model. Turns out I need an extra 10mm. The spacing is critical to get optimal coma-correction. The correct space is about $20 from the internet. It is on the way.
Build-Quality
This scope is a beast. It has a metal tube and is very sturdy.
The cage that holds the mirror is very hefty. The fan on the back for cooling causes absolutely no vibration.
The inside of the OTA is painted flat black and has knife-edge baffles to improve contrast.
Once I got screws (thanks ACE), I assembled the tube-rings and dovetail bar. It makes a stout combo and I'm not at all worried about the mounting.
The finder-scope is generous and the bracket is your standard fare. It is spring loaded and was easy to line up with the scope.
The focuser is a solid Crayford-style 2 inch unit. It took some toying with it before I dialed in the right focuser tension to hold the drawtube steady with a heavy 2 inch eyepiece. It also takes a little figuring to determining the right spacing for the adapters and extension tubes to reach correct focus. The telescope includes a 2 inch tube, 35mm long extension piece.
I know the focuser requires extension tubes because a DSLR camera needs back focus for prime focus photography. But you have to add quite a bit of length to the tube to get focus with an eyepiece. The stack of adapters plus the coma corrector sticks out considerably from the OTA. It is a good thing the focuser is very hefty and appears to hold the weight well. I noticed NO image shift during focus. Travel was very smooth.
The only trouble with the scope that I saw was what appeared to be a small speck of the flat black paint on the primary mirror surface. The speck looks about 2mm diameter, located about 3 inches from the center-spot. Alas, it is out of the shadow of the secondary so it is on the imaging surface. Articles I have read on cleaning optics suggest that a speck has to be substantial before it affects the image. So I have not taken off the mirror cell to clean it yet. I am worried I will do more harm than good.
First Light
I put the OTA on my Celestron mount. The total weight of the OTA, brackets, guide scope and cameras was about 25 lbs. The rated capacity of the AS-GT is 30 lbs. I've read that you're supposed to de-rate the capacity by half. I don't know the origin of this urban legend, but I chose to trust the engineers at Celestron. Maybe that rule of thumb was put out by their sales staff to get you to by the CGEM. If they say 30 lbs, I believe the mount can handle 30 lbs. Otherwise wouldn't they be exposing themselves to liability issues? Why would a company intentionally misstate their mount's capacity?! Nonsense! So my rig actually has about 5lbs to spare. In practice, I required an extra 11 lb. counter-weight to get balanced, but the mount did not groan or complain.
In fact, I was very pleasantly surprised at how smooth the mount handled the load. It seems more stable than with my light little Astromaster. I did a two-star alignment with calibration stars, and after the first calibration star the Go-To accuracy was remarkable. Every target after the first three stars was hitting inside the inner-circle of my reticule eye-piece. I picked stars all around the sky to give it a good workout, and the mount had no trouble with the weight. Accuracy was the same on either side of the Meridian.
Optically, the tube was amazing. The leap in aperture from 5 inch to 8 inch probably had something to do with my impressions, but the light grab is really amazing. I am in suburban skies and there is moderate light-pollution. But looking at the dark side of town where there is less sky-glow, I was amazed at the contrast. I could EASILY see detail in M81 and M82. The Hercules cluster showed a TON of stars, and Saturn was practically touchable. The moon wasn't up, but I think I will need some serious neutral density filters not to blind myself.
Coma Corrector
All of the above optical impressions were with the coma corrector in place. I once took it out just to see, and quickly put it back. It was like the time my mother-in-law stayed over-night at our house to watch the kids. She came out of the bathroom after a shower wearing just a towel. I happened to be in the hall-way at the time. Some optical memories are best forgotten… and quickly. This f/4 scope NEEDS a coma corrector. At $135, it is a hefty chunk of change compared to the $450 for the OTA. But that price is competitive with others on the market.
My thought on buying a coma corrector that cost about one third the price of the scope is this—To view the skies minus optical aberrations, you have three choices. You can buy a luxury APO for $10,000 plus. You can buy a modified-Newtonian design such as a Mak-Newt, a Schmidt-Cass, a Ritchey-Chretien, or other reflector with a corrector lens for $1500 and up. Or you can buy a cheap old Newt and get a coma corrector for about $600.
The bonus with the coma corrector is that you just became everybody's good buddy at your local star party. Everyone at a star party with a 2 inch focuser can make use of your coma corrector. Dob users might even kiss you on the mouth when you let them borrow your corrector. In fact, it is my favorite new piece of optics.
My options in the same price range were the Baader MPCC, the Vixen corrector for the 200SS, and the Astro-Tech photo and visual corrector. I didn't consider the Televue Paracorr because it was just too expensive. I bought the Astro-Tech coma corrector because theoretically, it was designed to use with this scope. It seems like a marriage made in heaven. It is. But you DO need to adjust the spacing for optimal performance. (IMAGE 4)Unfortunately the corrector does not come with a 10mm spacer. The supplied t-ring adapter allows you to connect the connector optics to a t-ring for your camera. But you need an extra 10mm to reach the offset to hit the imaging chip just right. For $135 for the coma corrector, you would think it would come in the box.
This image below of M81 is my first attempt with this scope. It is a stack of 30 x 30 seconds at ISO 400, no filters. Some basic processing in Nebulosity and Photoshop was done. One thing immediately obvious is that I had not collimated the scope yet. I wanted a true out of the box experience. Do not worry, I have already adjusted the collimation and plan on re-imaging M81 soon for comparison. Looking back at my thoughts on the image quality, I can't wait to see how it does when I'm actually all lined up!
Final thoughts
I am not an APO fiend. I will NOT spend more than $1000 on an OTA out of principle. I am an AMATEUR astronomer, so I don't make any money off this gig. So bear that in mind.
That being said, this scope FEELs like a professional quality piece of equipment. It is solidly made, and the finish is pretty. It has small hints at mass-production, like the small paint speck on the primary. But my impression is that I have finally made the jump from newbie to apprentice astrophotographer.
This is my first significant investment after months of research and counting my pennies. I will write again after my 100th image and let you know if this scope still makes me gasp at the views. It seems to me that it is a great tool. Just remember to pick yours up while the hardware store is still open.

Telescopes, Astronomy, Binoculars