From the
ATWB Customer Gallery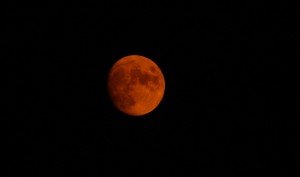 Disco Inferno
The Sky-Watcher Pro 100ED Refractor
I love refractors! My first scope back in the 70s was an RV-6, which was an excellent scope in its own right, but I always longed for a nice refractor. To this day, I still like to gaze over Unitron advertisements in my very old S&T mags from that golden age. In the past decades I have had several scopes-SCTs, Maks, reflectors, dobs and refractors. I enjoy them all, but I enjoy seeing those tight star images thrown up by a good refractor at high power...those wispy rings of light around a nice airy disk.
I have been curious about the 100mm ED refractors manufactured in Asia for some time, like those offered by Orion and Vixen. The Vixen 80ED caught my eye a couple of years ago, so I bought one and it was an excellent scope especially considering the cost. Recently I read that Sky-Watcher scopes were now being sold in the US with Sky-Watcher USA being the distributor. I went to their website and there it was, a Sky-Watcher Pro 100ED f9 refractor with tube rings/dovetail plate, a 2 inch diagonal with adapter (both have the brass compression ring), an 8x50 finder, an aluminum case and a dual speed crayford-type focuser! The price was a very attractive $795 which was the selling point for me…especially compared to a similarly equipped Orion or Vixen 100ED.
A few days later the scope was delivered and arrived in good shape, the aluminum case had no dings to show for its extended travel much to my surprise, its traveled from China to me here in Upstate South Carolina! Upon opening the box and removing the aluminum case, I found the scope in all its glory-black glossy paint with gold fleck accents and white trim! Beautiful! Everything looked great...so far, so good. The scope came with a simple looking dovetail plate, black anodized. I happened to have a new Vixen white dovetail plate and it seemed like a good idea to go ahead and swap the two, after all I was going to mount the scope on my trusty Vixen GP2 mount with RA drive. What I like about the Vixen plate is that it is very unlikely to slide off the mount in that it has a recessed groove for the mounting bolt where as the stock plate is smooth, no big deal, nothing wrong with the stock plate.
I got lucky the next few days, the new scope (weather) curse was late arriving, I actually got in some quality time with the Sky-Watcher. Double stars are one of my favorite targets, may as well find out if the scope is well collimated or not. After giving the scope plenty of time to acclimate to temperature, I picked a mag one-ish star to observe. I was so excited, I don't even remember which star, but the good news...good alignment noted, in fact, perfect alignment. The defocused star showed a nice bull's-eye. But wait, I need to really do a star test, one with the star in focus and at high power. Orion was at a nice altitude, why not go for Eta, a double with components of mag 4.9 and 3.6 with a separation of 1.7". I inserted a TMB 5mm Planetary, located the target in my finder (which took me a quick moment, still not used to a right angle finder), then looked thru the scope. Wow! I could easily see each component with its own diffraction ring with a break between them, each just kissing the other. This has, at times, has been a tough target for me, even with previously owned refractors like the TV NP101 and the TV 102. The seeing is maybe so-so, or the double is too low, always something. But tonight, success was the ticket, seeing was at least "good".
Since then, I have had a chance to get to know the scope a little better. M31 with its smaller companions M110 (NGC110) and M32 gave a nice performance while being observed with a TV 32mm plossl. Likewise with M42 and the Trapezium, really sharp. My TV 19mm Panoptic has gotten to be my low power eyepiece of choice, especially looking at nice open clusters like M36 and M38.
Summary:
Let me give a few pros and cons now that the initial excitement has settled down a bit.
Pros:
Very happy with the sharp FPL-53 optics, actually much better than I would have guessed, every bit as good as its Vixen 80ED cousin.
Excellent collimation! Some of my observing was done with the temp in the 30s, there was no sign of pinched optics. I have returned refractors to the factory practically right out of the box due to collimation issues, and I am talking scopes that cost 3 to 5 times this much. I hope mine is an average sample of SWs production.
The "extras" are also a big plus. You get a nice 8x50 right angle finder, easily removed if you want to pack the scope in its nice aluminum case. You get tube rings and a dovetail plate which fits many of today's mounts. The 2-speed focuser is my favorite. Its no Starlight Feather Touch, but it works just fine, with no slop.
I must also comment on the "looks" this scope has, I just love the black paint with gold flecks! The photos don't do the scope justice for seeing the gold in the black paint. Looks good on the Vixen mount too.
Cons:
Yes, as with every scope, there are some "cons". Not that you need "instructions" on how to use this scope, but it would have been nice to have some. My first concern was with the focuser. It was set with too little friction from the factory and I was not exactly sure which hex screw to adjust. It slipped when used with some heavier eyepieces. My email to the folks at Sky-Watcher was quickly answered and I had the scope adjusted to my liking in a matter of a couple of minutes (its the set screw inline with the large focus lock screw, duh!).
Sure there is some color on really bright objects, but I never noticed any on the moon's limb. You can see color on either side of focus, but it is, after all, a doublet design and I try to make it a habit of doing my observing while in focus, so the color thing is no big deal to me. It's an APO in my book!
The 2" to 1.25" adapter had a rough edge. Being a little particular with my collection of Radians, Naglers and Panoptics, I replaced the stock adapter with one from Televue, don't want any scratches.
That's about it. You get an excellent product for your monetary investment. As I hinted earlier, I hope my scope is a typical example. I am very pleased with mine.
Clear and Steady Skies,
Dave Ponder
PS. I have no affiliation with Sky-Watcher, TMB, Vixen or Televue other just being a good customer.

Telescopes, Astronomy, Binoculars