From the
ATWB Customer Gallery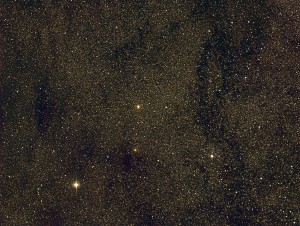 Baade'swindow
Star Gaze Hawaii and the Visitor Information Station
The Big Island of Hawaii has the potential for the amateur astronomer to do some amazing night time observing. I recently returned from a 10 day vacation in Kona, on the Big Island, and had a great time doing all sorts of activities, including free public star gazing at 9000 feet and a guided tour of the cosmos provided by the folks at Star Gaze Hawaii, at a wonderful beach front hotel.
Researching and planning star gazing on the Big Island
I found Star Gaze Hawaii on the Internet, as I was researching possible choices for star gazing, and emailed them about their program, and was pleased to get a very prompt and honest response from Wayne regarding what he offers, compared to the other tour operations. Star Gaze Hawaii offers viewing sessions from several beach hotel locations, and also offers private viewing sessions for special events, and astrophotography session for individuals. I looked into several other options as well, which included driving up to the top of Mauna Kea, taking a tour of the research telescopes of Mauna Kea which included an observing session at the Visitor Information Station (VIS) at 9000 feet, driving to the VIS on our own which includes a free observation session with the scopes provided, and bringing my own WO Megrez 80mm APO refractor with a tripod for viewing whenever I wanted.
There were a number of factors to consider, including the drive times, costs, elevation, and ages (attention spans and health issues) of who would be going. Since this was a family vacation, the age range from 8 to 70 played a big factor, as people under 16 and people which other health issues are not allowed up on the top of the mountain, which eliminated all options that included traveling to the summit at 14,000 feet. This meant the highest we could go was the VIS at 9000ft, and only if we drove ourselves, since none of the tour operators took people to only the VIS. I would have liked to see the big research telescopes, but an 8 hour tour, the higher elevation, and the high cost per person bumped that off the list. I opted to drive up to the VIS on Saturday night on our own (free to visit, you just have to get there), and for the Star Gaze Hawaii program on Wednesday night at the Hapuna Beach Prince Hotel ($25 for an hour of shared viewing with their equipment), as well as to bring along my 80mm refractor with a sturdy photo tripod for star gazing from the hotel.
Observing from the Royal Kona Resort in Kona
Conclusion: Not Recommended
After arriving, it became evident to me that near the town of Kona is not the best place for star gazing from your hotel. First, the weather in Kona was the same every day in June that we were there. It would start out clearing up in the morning with temperatures in the mid 70 degree Fahrenheit range, then warm up to the mid 80 degree Fahrenheit range, then clouds would develop at higher elevations, then remain partly cloudy the rest of the day, and not even begin to clear out until late. It turns out that I really only had 2 nights out of 10 that I could even do mediocre observing from the hotel location. There also seems to be no shortage of lights left on at night in Kona, including a stadium that was in our direct view to the North that seemed to have its lights on 24/7. This was a bit disappointing, but when you are in Hawaii, you tend to not have very many worries (maybe it's the Mai Tai's), and this certainly wasn't going to stand in the way of our fun. My recommendation is to stay somewhere north of the Kona airport if you want to observe from your hotel, as I found out from Wayne later on that hotels south of the airport are stuck in the wind shadow of the Hualalai mountain and don't clear out until very late at night most of the time.
The Visitor Information Station (VIS) on Mauna Kea at 9000 ft elevation
Conclusion: Recommended but with reservations
After communicating several times with Wayne of Star Gaze Hawaii, I had told him that I was bringing my 80mm William Optics APO refractor, and that our plan was to drive to the VIS on Saturday night. It turned out that Wayne had already planned to be there that night as well, since he likes to volunteer his time there and do some imaging of his own on the darkest Saturday of each month, and offered to let me mount my refractor on one of his Losmandy mounts, so I graciously accepted. If you rent a car on the Big Island, you need to be aware that not all roads are drivable by a standard rental car. We rented a 4x4 and planned on visiting quite a few places, so traveling the road to the VIS (called Saddle Rd) didn't seem like it would be a problem. The road, while paved, is a very rough two lane road, with one lane bridges in many spots, and most of the road is smooth in only the center portion. This results in most cars driving down the center of the road, both going up and coming down the winding road, without any street lights on any part of the road. As the road winds up to 9000 ft, we went through several sets of cloud banks, and were unsure whether we would be able to see the sky at all once we got there, much less stars, galaxies, or nebulae many light years away. Let me say that if you are afraid of heights, don't like to drive in somewhat spooky conditions, or are tired, and don't want a tense 90 minute drive from Kona, this drive is not for you!
We arrived at the VIS in daylight, and looked around to see clouds everywhere, but I had talked to Wayne after arriving to confirm that we made it and he said that the clouds generally go through some sort of inversion that pushes the clouds down at dusk. Wayne was there, as were a large number of other people who had already gathered to view through the free public scopes. As promised, Wayne had a very nice Losmandy G11 mount with rings for me to use. He got me setup, and just as he said, like some special Hawaiian magic, the clouds sank and we could see Jupiter, Saturn, Mars, and a few stars as the sky cleared. Then it got dark. How dark? Pitch black, dark! It got darker that I have ever seen the sky get in my entire life. The stars appeared three dimensional against the black sky in an amazing display. The temperature, which was only about 60 degrees F dropped quickly, and settled in under 50 degrees within minutes. Be prepared to dress warm if you do this trip. The VIS has all sorts of goodies to buy, and indoor video presentation, souveniers galore ($$$), several interactive computer systems, but no gasoline, so don't leave without a full tank and have some money in case you want to buy anything (we bought Milky Way bars of course). We had fun, observing through my scope and the others which included several dobsonions, a Televue 102 refractor, a Celestron 14 inch SCT, and a huge Meade 16 inch SCT, Wayne's Celestron 11 inch SCT, and a friend of Wayne's Stellarvue 102 refractor.
We viewed a number of objects that I lost track of, and imaged M6, M7, M8, the Omega Centauri Cluster, and NGC 6231. My favorite was definitely the Omega Centauri Cluster, which was simply incredible to look at. We were also fortunate in that we could see the Southern Cross, and the Northern Cross at the same time, and Alpha Centauri from this location. The views of the stars, Milky Way, and entire sky from the VIS were unforgettable, and we will most definitely return, next time hopefully better prepared to stay longer. Everyone was tired, and we didn't stay all that long, but it was a very memorable experience. We thanked Wayne a number of times, and headed back down the mountain leaving behind what are most certainly the darkest skies I will ever observe from in the civilized world. The highlight for me was the view and photos I got of the Southern objects, which I can never see from my higher Northern location.
I would recommend the VIS trip, but with the following important reservations. You need to set your expectations accordingly, since this is a free public area, and there will be a lot of people who have never observed from any telescopes, stumbling about in the dark. The people who work there while knowledgeable, but it's a bit of a free-for-all, and even though the VIS has some nice equipment, but it gets heavily used, and it appeared to me that the SCTs were not very well collimated. It's not a "star party" so you can expect people to come rolling into the parking lot at any time, with headlights blazing, and people will ask the "full range of questions", and touch every optical surface or piece of equipment within their reach. Nevertheless, it is an amazing place to observe from if you can handle the drive, the large temperature shift, and the crowd.
Star Gaze Hawaii at the Hapuna Beach Prince Hotel
Conclusion: Highly Recommended
Time went quickly, and before we knew it, it was Wednesday and we were headed to the beach star gaze with Wayne's company Star Gaze Hawaii. The drive was wonderful, with some amazing views along the 45 minutes smoothly paved highway from Kona to the Hapuna Beach Prince Hotel, where we had dinner at the Coast Grill, which overlooks the ½ mile pristine white sand beach of the Hapuna Beach Park. We had a marvelous dinner ($$$$) and watched the sun set gracefully over the trees, with some scattered clouds. For whatever reason, the clouds do a different dance here in the North Kohala area of the Big Island, and we had clouds clearing out even before the sun set, with only lightly scattered clouds by 8pm when the session begins with Star Gaze Hawaii. Since the sun sets at just after 7pm, it was already quite dark by 8pm. If star gazing from your hotel is in your plans, this would be a much better choice than the Kona area.
We were greeted by Wayne and his wife, paid our fee and immediately realized we would be in for a treat. Wayne and his wife are local Hawaiians, who are genuinely fun and friendly people, with a passion for what they do! Each person received a package of goodies that includes a nice color astronomical guide with a variety of facts, a nice cardboard planisphere, post cards of some of Wayne's favorite shots, a handout with some of the items we would be viewing that night, and everyone's favorite; a small red keychain flashlight. There were about 20 or so people total that ranged in age from kids to seniors, and we all sat down for a brief presentation on the back deck of the restaurant. I was surprised at how dark it was here, even with a few lights on the entrance way. In fact, the sky had just a few high clouds still drifting by, and while not as dark as the VIS at 9000 feet, presented what looked to me to be almost as dark of skies, but at much more comfortable temperatures. I was pleasantly surprised to be able to see so many stars from this location, and we had no trouble seeing the Milky Way, or any of the objects we sought out from here. To be honest, you really can see almost as much as you can from the VIS, but the extra 9000 feet of atmosphere above you does result in seeing conditions that weren't as good as the VIS.
Presentation
The presentation was a series of well done slide shows of numerous photos of various astronomy items, and included shots from all sorts of telescopes, some of which Wayne had taken himself using the gear we would be viewing through. The narration and information was done by Wayne and his wife, who were clearly very knowledgeable about Astronomy, and have a real flare for making it fun for everyone. After about 15 minutes or so, the presentation ended, and we all headed to the scopes that had already been setup and pointed at some objects to view. My overall opinion of the presentation was that is was very well liked by all ages and experience levels, and quite entertaining, yet very informative. Even people who were clearly very unfamiliar with astronomy seemed to get a lot out of the presentation, yet it was enjoyable for people who had a much larger knowledge of the skies.
Observing
The scopes were setup and ready to go, and included two awesome Celestron 11 inch SCT scopes, riding on Losmandy G11 mounts, on heavy duty tripods that remained steady throughout the night breeze of the Hawaiian trade winds. There was a variety of eyepiece sizes used throughout the night, all high quality Televue models, including Panoptics, Naglers, and Radians. Another nice piece of equipment used was a Collins Electro Optic I-cubed Image Intensifier, which helped quite a bit on the fainter galaxies and objects for those people who had a harder time with those faint fuzzies. To ease viewing, sturdy step ladders made the viewing accessible to all heights. Each scope was equipped with a finder scope and a Telrad, and everyone had plenty of time to view the objects that they quickly found for us, identified, and explained. We had to stand in line for a few minutes at times, but I never felt like we were waiting around, and I never felt rushed, and both scopes tracked flawlessly for the entire session.
In addition to the actual viewing, Wayne and his wife were kept busy answering all sorts of questions, and treated us to pointing out constellations and areas in the sky using their powerful green laser pointers, and displayed images of objects we would be viewing in real time on their PDAs, using a combination of photos that Wayne shot himself and Software Bisque's "The Sky Pocket Edition" with T-Point. This made for a wonderful assortment of non-stop activity between the viewing through scopes, the PDAs, and the naked eye skies. The goal was an hour long session with 10-12 objects which started at 8pm, but by 9:30 was still going when we headed out..
The following is a list of objects I remember viewing, but I might have forgotten one or two, so if that's the case, I will apologize in advance.
The Moon – a young moon, loads of detail, and very nicely framed in a wide field eyepiece.
Jupiter – nice details, even though the air was a bit unsteady, at reasonably high power
The Sombrero Galaxy – this was one of the highlights of the viewing, as it is something I have never been able to clearly see from my suburban, light polluted, home location.
The Ring Nebula – a little hard for the less experienced to see, it was amazingly bright and crisp to me. This is an object that clearly benefits from the dark skies, and excellent equipment being used.
The Whirlpool Galaxy – this was found at my request, when I asked Wayne's wife if she could find it for me, which she easily managed. Wow – this was the highlight of objects for me, since I was able to clearly make out the spiral arms.
Mizar and Alcor – a nice double star, which was easy for everyone to see.
Alberio – a beautiful double star combination that was easy for everyone to see, with its striking color difference.
The Hercules Cluster – a large and very nice globular cluster. This is one I can see from home, but it sure looked a lot better with the scopes and skies we were using.
The Omega Centauri Cluster – an enormous and wonderfully bright globular cluster that is simply the best globular cluster I have ever seen.
The Swan Nebula – another highlight for me, since I have never been able to view this from my light polluted skies. I was able to view it both with and without the image intensifier and was quite pleased to be able to have such a wonderful view of this.
The Stargate – a nice asterism of three bright stars in a tight triangle pattern, surrounded by three additional stars
NGC6281 – a nice open cluster of stars known that looks like an electric guitar
M6 – a nice open cluster in Scorpius
I give the observing session another A+ for being able to see so many wonderful objects in a short time, a wide variety of objects, dark skies, top of the line equipment to view with, and a genuinely friendly and enthusiastic attitude by Wayne and his wife that kept everyone entertained and informed for a wonderful observing session. If you are on the Big Island, I would highly recommend attending one of Star Gaze Hawaii's observing sessions.

Telescopes, Astronomy, Binoculars