From the
ATWB Customer Gallery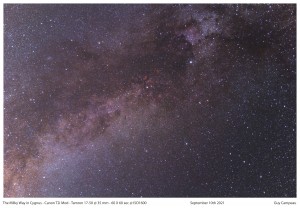 The M ilky Way in Cygnus
Vintage Questar Eyepiece Reticles
Hi Folks,

I am selling my pair of Questar Retcle inserts that I found in my kit.

These Reticles are to be cemented to the inside of
retaining ring of the 40-80× and the 80-160x original Questar eyepieces.

These significantly aid the observer when
Polar aligning and for accurately and quickly  acquiring proper R.A. addresses.
These will enhance your ability to use the
lovely Questar setting circle and perfect for those wish to not always rely in the small finder.

Telescopes, Astronomy, Binoculars