From the
ATWB Customer Gallery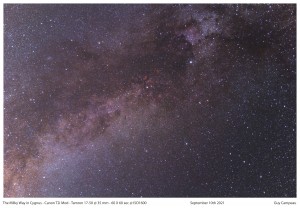 The M ilky Way in Cygnus
Custom Foam for Questar 3.5 and Pelican Case (Design rights only)
This foam design has previously been offered with group buys, but is now offered only as purchasable "rights" to order direct from MyCaseBuilder with permission to use my proven design.
Illustrated and discussed on CN under "Modern Travel Case for Questar". Sized for Pelican 1507 that you can buy from foam producer or elsewhere.
The precision pre-cut foam insert design is optimized and proven by nearly 50 owners to neatly store everything from your original case, and more:
Questar 3.5" Standard or Duplex telescope of every era (excluding Powerguide II with protruding base plate*). Early models will have gap at lens cap area, modern models will be snug.
Up to five spare eyepieces (case will include cut-to-length eyepiece filler plugs providing a flush appearance if unused - not shown)
Solar filter slot fits off axis or full-aperture filters.
Camera Coupling.
AC cord.
Tabletop legs.
Large (7"x2"x 5-1/2") storage compartment for other accessories, including the large Powerguide III controller. Includes removable foam lid to contain and isolate items from legs above.
How to order:
Message me for my PayPal Email address.
Upon receipt of funds (and your name and email address), I will email the company and copy you with authorization to build one for you.
You may decide on foam type, knowing that past orders have been for the premium "pro-cell" foam.
If you have any questions, including about cost (well over $300), foam options, or the ability to customize the design (which is permitted by me if limited only to a single use) you should address them and other questions to the manufacturer.
$30 is for the right to order only one case foam without needing any assistance or answers from me. If you're uncertain, work directly with the company or don't pursue this.
*There is a design that fits the PGII on file and available at the same price, but buyer is responsible for communicating with manufacturer that it's the one with the fatter base area and verifying it is correct before ordering. The last order for this variant was about June 2019. I suggest verifying your overall scope height and the overall main cavity length.

Telescopes, Astronomy, Binoculars