From the
ATWB Customer Gallery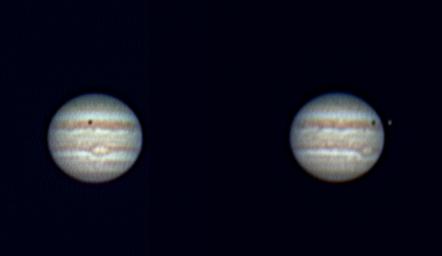 Jupiter & Io transit
Fine Adjustment Spacer Rings (M42/M48/M54/M68, etc & custom)1
12 set of spacer rings 3D printed in PLA filament. Currently designed sizes are specified below, but custom spacers and thicknesses can be made upon request.
Sizes:
M42
M43 (Takahashi)
M48
M54
M56
M63 (William Optics / APM-Riccardi)
M68
2.7" / M70 (Astro-Physics)
M72 (Takahashi)
M82 (APM-Riccardi)
M92 (Takahashi)
Details:
Comes with 4 different thicknesses, 3 of each are included: 0.4/0.6/0.8/1.0 mm.
Rings will have plenty of room to easily fit over the threads.
The perimeter width of the ring is 3.95 mm.
Please message me with the size(s) you would like to purchase. E-transfer and PayPal accepted.

Add $7.00 or $9.00 USD (depends on zipcode) for tracked shipping anywhere in the lower 48 states. Shipping is $4.25 USD for Canadians via Canada Post Lettermail. I will ship anywhere in the world, ask me for a quote (provide a zip or postal code).



Telescopes, Astronomy, Binoculars