From the
ATWB Customer Gallery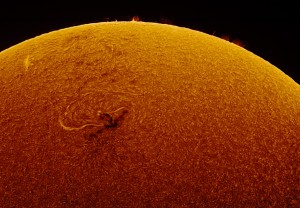 Solar Active Region AR 2741
Losmany GM8 + Gemini1 (reduced)
I'm selling Losmandy GM8 with Gemini 1 GoTo system. The mount has worms changed to Losmandy's 'high precision' ones. Items included:
- GM8 mount head with fitted Gemini motors
- Gemini 1 controller with motor cables (SW level 4)
- Gemini 1 deluxe hand controller (with 1 line display)
- counterweight shaft
- 1 counterweight
- wooden carrying box
- tripod with mount adaptor
- Losmandy polar scope

I prefer local pick up from Newmarket or Cambridge, UK. Shipment can be considered but only with proper insurance. Shipment cost is not included in the price. The telescope, filter wheel and camera are _not_ included in this offer.

Telescopes, Astronomy, Binoculars