From the
ATWB Customer Gallery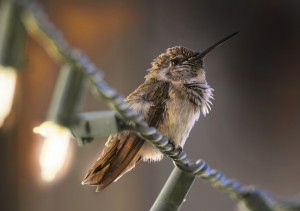 Bird on a wire
Astrograph imaging package you provide the camera
Wide Field Imaging Platform - ready for your camera up to 36mm X 24m sensor size.
Imaging Scope - Takahashi FSQ 106, 530mm FL, 106mm Objective, f/5.0, Serial # 99084
Guide Scope - AstroTech AT66ED APO, 400mm FL, 66mm Objective, f/6.0
Guide Camera - SBIG ST-i Monochrome, Serial # 10293
Focuser - FLI Atlas, with 3" ring (others available from FLI) Serial # AT011815
USB hub - 7 port Coolgear
PowerPole power distribution hub - West Mountain Radio RigRunner 4008H
Wiring Harness saving you some hours of fabrication time that you could spend imaging.

This package was recently used with an SBIG STXL-11002 camera with a 36mm X 24mm monochrome sensor giving an approximate 1.5 degree X 1 degree field of view with this scope.  This system was riding on a Software Bisque Parmount MX.
This FSQ has provided me with superb images.  It has flourite coatings and has been paintd by the previous owner to match his other equipment.
You can save yourself many hours and dollars putting a system like this togethers.  The rings, plates and adapterlsj alone are worth several hundred dollars.  The power distribution and usb hubs another hundred.  There is a mounting dbase for a Telrad finder (not included).  I value my used FSQ at $2000 and the AT66ED APO sold new at $400.  The SBIG ST-i was new at $600 and the FLI Atlas focuser sold for $2500.  If you could find another FSQ for $2000 and added the other gear new for $3800 you would have invested about $5800.  At $4000 you will save yourself not only money but time and aggriation in coming up with the rest of the gear.
This is not a light weight unit.  As it stands right now without a camera it is just a touch over 32 poundnls.  This is not a showpiece, but rather a workhorse.

Photos wil follow in a few days.

Telescopes, Astronomy, Binoculars