From the
ATWB Customer Gallery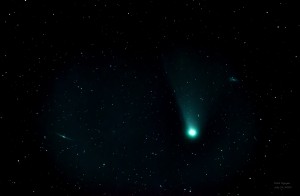 Comet Neowise with the Needle Galaxy: July 31, 2020
8" BK-7 optical disk, polished on both sides
This disk was sold to me as a Pyrex flat from LANL surplus but after trying it out, it's neither very flat (probaby 1-2 wave) and neither made from Pyrex. As such it's probably not what you would want to grind a mirror from. I believe it can be turned into a good flat using using pitch pressed on a reference flat but I'm no glass pusher and have to let it go. My hope it that someone will grind and polish it into a lens.

As you can see from the autocollimation tests of an excellent ED-80 refractor (green Ronchi lines), it has some surface irregularities and from the interference test against a zerodur flat, it shows clearly as non-flat but close to it.

Using help from CN forums, I conducted a Pfund test for refractive index and got a value close to BK7. I then measured it carefully and weighed it and got a density very close to BK7 as well. My best guess then is BK7 for the material.

Finally, a caveat: there is stress in the disk but it is smooth and not irregular as seen in the polarized light image. Optical expert opinion on CN is that is should not matter if it's figured into a flat or ground into a lens.

Paypal accepted. Shipping should be close to $10 in CONUS.


Telescopes, Astronomy, Binoculars