From the
ATWB Customer Gallery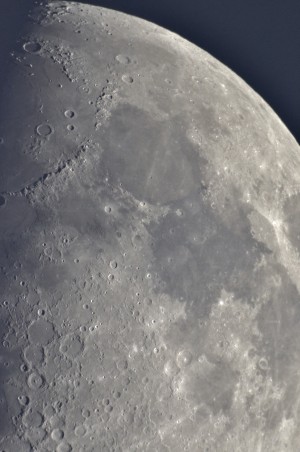 Moon Snapshot with Starmaster 11 "Shorty"
Beautiful Coulter CT-100 Travel Scope
Not your typical Coulter telescope
This is a beautiful example of a Coulter CT-100 4.25" f4 travel reflector. The pictures speak volumes, but I will add that in addition to the gorgeous cosmetic condition, the primary and secondary mirrors are in excellent condition. The only reason that I am moving on with this great travel scope is because I just bought a Questar.
Included in the Sale:
Complete CT-100 Kit including both primary and secondary housings, mounting bar with added 1/4" 20 hole, original helical focus eyepiece, all original hardware.
Original brass erecting prism
Original 6 page type-written operating instructions
Original Envelope mailed to customer R.A. Lonardelli dated Dec 16 '80
Original Sales Literature
Baader solar filter made from machined aluminum cell
Celestron 8-24mm zoom lens that works great in the scope
Nishika (very) light weight tripod with adjustable column and quick release mounting plate. This tripod is great for display, less so for detailed viewing. (mount head shown in first 3 pictures is not one for sale, last pictures show tripod)
The entire kit fits in the 7x7x6" case! The mounting bar is part of the strap.
$425 ($375 w/o tripod, zoom lens, and solar filter)

Telescopes, Astronomy, Binoculars