From the
ATWB Customer Gallery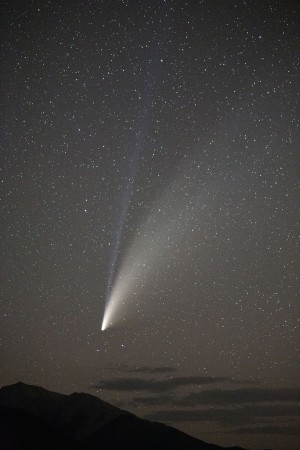 Comet Neowise setting over Mt. Princeton, July 18
Let's Us "Remake" Your Telescope into an Ultra-Lite....
I take your existing telescope and rebuild it into an "ultra-lite" design. Parallel strut, "string-strut" (virtual truss) or 8-tube truss designs. I use all Baltic birch throughout.
You need only send me your primary mirror and mirror cell, secondary and spider and focuser. I'll do the rest. These telescopes will be complete, tested and ready to use.  All telescopes include a custom mirror cover and focuser baffle.
They assemble/disassemble without the need for tools and all parts re "captive" so they won't get lost in the dark!! Generally, any of these telescopes will fit into a trunk of an average sized car.  Is there "something special" you'd like to have made. Contact us.
6" and 10" :
-- Parallel strut, $995
-- String-strut, $1094
12":-14"":
--Parallel strut, $1295
--String-strut, $1394
--Truss, $1995
15"-18""
--Parallel strut, $1795
--String-strut, $1894
--Truss, $2r95
Note: There are a variety of options available, so email or call me -- any time.
Dennis
tel: 650-315-6578
email: densteele@dobstuff.com
web: 
http://dobstuff.com

Telescopes, Astronomy, Binoculars