From the
ATWB Customer Gallery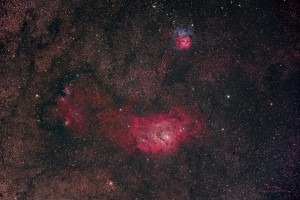 M8 & M20 Wide Field
Fake News and Click-Bait -- Sorting Through the CRAAP
Does the title of this article intrigue you? It should. It has Click-Bait written all over it. Now that I have your attention, you are going to hear my point of view, whether you like it or not. Am I trying to inform you, teach you, or simply entertain you? Am I trying to sell you something? Maybe I am just trying to persuade you to see things my way. The reality is that you don't know what my purpose is until you read what I have to say. Then you will have to determine if what I am saying is Fact, Opinion, or Propaganda. That's where the Currency, Relevance, Authority, Accuracy, and Purpose Test (the CRAAP Test), developed by the California State University - Chico, can help.
In the 1800's, the German philosopher Friedrich Nietzsche famously said: "There are no facts, only interpretations."
And boy was he right. Clearly Friedrich Nietzsche was born 100 years too early -- His philosophy would dovetail nicely with what we see in today's world.
So how does one go about sorting through all of the news and information that we are bombarded with every day? What is fact? What is fiction? What is reliable information? What is self-serving propaganda?
The CRAAP Test is a list of questions to help you evaluate the news and information you find. Although this is written from a writer's perspective, it is equally well suited for readers of news and information. The different criteria will be more or less important depending on your specific situation or need, but ultimately it is important to consider all of the criteria when assessing news and information.
CRAAP Evaluation Criteria (The California State University - Chico)
1) Currency -- The timeliness of the information.
- When was the information published or posted?
- Has the information been revised or updated?
- Does your topic require current information, or will older sources work as well?
- Are the links functional?
2) Relevance -- The importance of the information for your needs.
- Does the information relate to your topic or answer your question?
- Who is the intended audience?
- Is the information at an appropriate level (i.e. not too elementary or advanced for your needs)?
- Have you looked at a variety of sources before determining that this is the one you will use?
- Would you be comfortable citing this source in your writings?
3) Authority -- The source of the information.
- Who is the author, publisher, source, or sponsor?
- What are the author's credentials or organizational affiliations?
- Is the author qualified to write on the topic?
- Is there contact information, such as a publisher or email address?
- Does the URL reveal anything peculiar about the author or source (examples: .com .edu .gov .org .net)?
4) Accuracy -- The reliability, truthfulness, and correctness of the content.
- Where does the information come from?
- Is the information supported by evidence?
- Has the information been reviewed or refereed?
- Can you verify any of the information in another source or from personal knowledge?
- Does the language or tone seem unbiased and free of emotion?
- Are there spelling, grammar, or typographical errors?
5) Purpose -- The reason the information's exists.
- What is the purpose of the information? Is it to inform, teach, sell, entertain, or persuade?
- Do the authors and sponsors make their intentions or purpose clear?
- Is the information fact, opinion, or propaganda?
- Does the point of view appear objective and impartial?
- Are there political, ideological, cultural, religious, anti-religious, institutional, or personal biases?
When you look for information or news, you're going to find lots of it, especially on the internet. But is it good information?
Truth be told, as writers and readers we all have our biases and opinions. Although we often try to be as impartial and objective as possible in our assessments, it is really hard to do. And remember this -- In any news or information there is always a message that is being conveyed. Sometimes it is blatantly obvious. Sometimes it is very subtle.
Hopefully, by applying a few simple questions from the CRAAP Test, you'll be able to peel back the onion and better understand what is motivating a particular writer to say what he or she is saying.
For more information:
http://library.csuchico.edu/help/source-or-information-good
http://guides.library.jhu.edu/c.php?g=202581&p=1334997
http://nmi.library.jwu.edu/c.php?g=374604
http://libguides.mjc.edu/CRAAP
http://libraryguides.ccbcmd.edu/evaluate-it/craap
https://libguides.cmich.edu/web_research/fakenews
http://libguides.lib.msu.edu/newsliteracy
https://www.nyit.edu/default.php/library/video_viewer/evaluating_information_for_academic_quality/
Click Here For ---->>>> One of my blatant attempts at Click-Bait (all in jest, of course)
Click Here For ---->>>> Astromart News Archive
Do you enjoy reading these News Items? Then buy the Astromart staff a cup of coffee (and maybe even some donuts).
Click Here ---->>>> Support Astromart

Telescopes, Astronomy, Binoculars