From the
ATWB Customer Gallery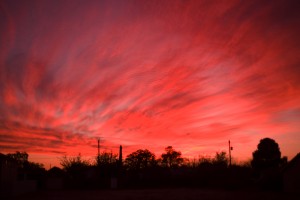 Sun set Texas style
The Latest Asteroid Near Miss...
Asteroid 2004 YD5 was discovered December 21, and when back-plotted it was found to have whizzed by Earth (over Antarctica) at a distance less than 22,000 miles, i.e., inside the orbit of some satellites. Size estimates based on albedo put it at only about 5 meters across.
This is the second-closest known approach by an asteroid, and as with some other close passes by asteroids in the past, it was not discovered until it was speeding away. In this case, as with 2003 SQ222 last year, its approach was from the direction of the sun, making photographic detection impossible until its departure over the night side of the Earth.
Submitted by Wil Milan
Arizona, USA
Click here for more about this. -Ed.

Telescopes, Astronomy, Binoculars