From the
ATWB Customer Gallery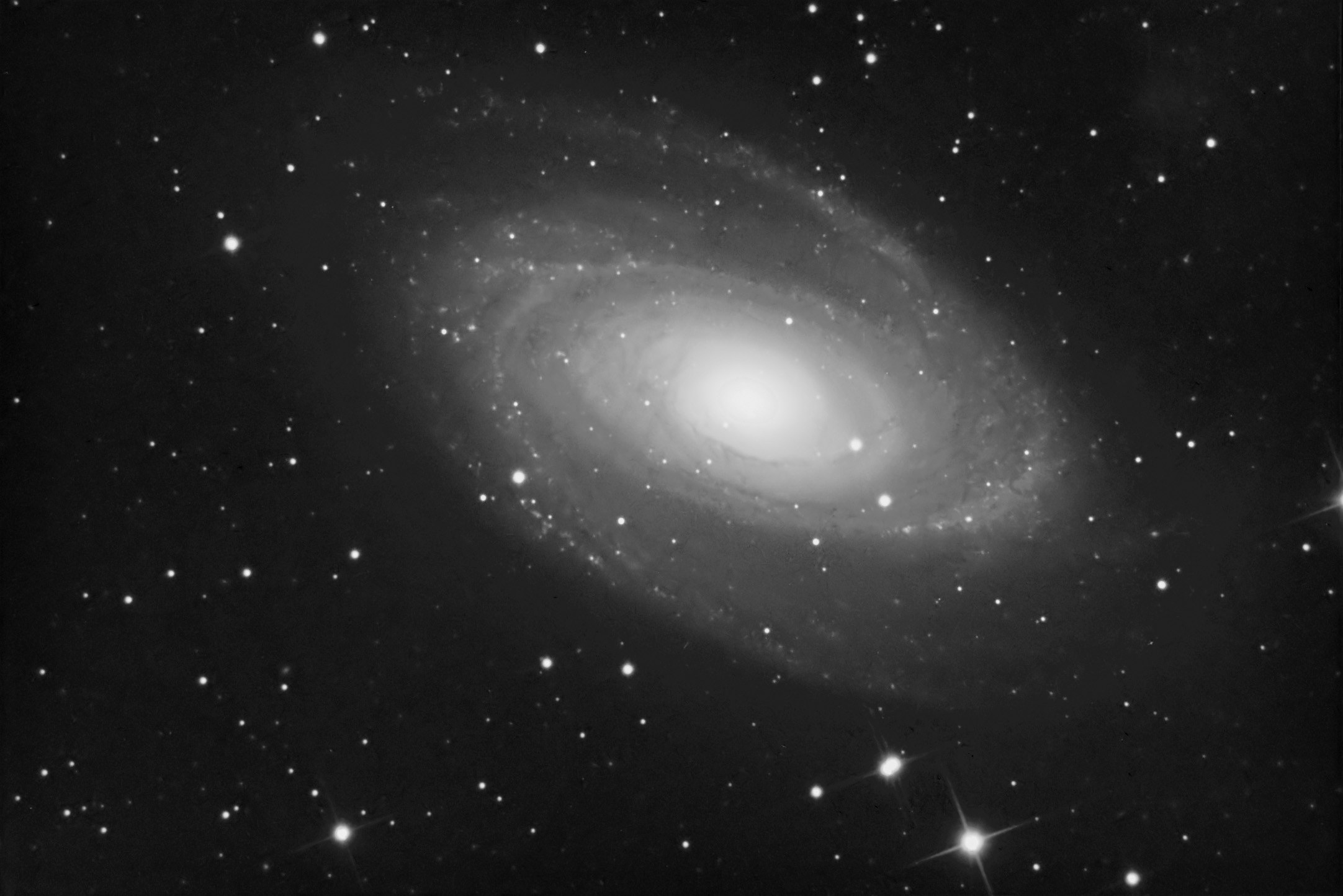 The Bode Nebula
Versatile 12 volt Red Reading/Writing/Chart Lamp
After several years of trying to hold a red flashlight in my mouth, attaching them to my head and no access to AC current in the field to power a red desk lamp, I figured there's gotta be a better way. There was. I just had to build it myself. Here's how you can too.
This lamp is designed to be powered by a portable 12 volt sealed lead-acid power pack; the kind with a built-in charger and one or two female cig. lighter power receptacles, commonly used to power tracking/Go-To telescope mounts.
I started with an inexpensive 120 volt clamp-on headboard reading lamp from Walmart (about $8), then removed the light bulb socket and wiring. I found a small, RED, 12 volt, round (1-3/4" diameter), bullet shaped LED (Light Emitting Diode) truck clearance lamp at an auto parts store (about $6). I replaced the original 120 volt wiring with a ready made curly cord cable with male cig. lighter plug (with internal fuse) already attached from Walmart (about $5).
A note about LED's: The truck clearance lamp I used houses 8 white LED's in a circle, covered by a red lens and comes complete with built-in current limiting resistors. I only had to pay attention to the polarity of the RED (+) and BLACK (-) wires sticking out the back. LED's are polarity sensitive, so you have to make sure you attach the power cord with regard to correct polarity. Cig. lighter plugs are customarily "center contact = Positive".
After feeding the power cable through the lamp's clamp, flex neck and into the lamp head, I connected the LED clearance light's wires to the power cable with crimp on connectors. Solder joints covered with shrink tubing would work just as well. I then press-fitted the LED clearance light into the lamp head, using 3/16" foam shims to hold it in place. You could also glue the LED light in place with silicone sealant or epoxy.
After assembling and testing my lamp, I discovered that the red LED clearance light was too bright and provided uneven illumination, which created hot spots, making star charts difficult to read. I then installed a diffuser in front of the red LED clearance light, made from a round piece of .170" thick white translucent Lexan; free scrap from a local electric sign company. The result was perfect; soft, even, red illumination and just the right brightness. The diffuser is press-fit into place with a layer of 3/16" black foam around the inside diameter of the cylindrical part of the lamp head. You could also glue it in place with silicone sealant.
I've had this lamp in service for a couple years now and it works very well. I sometimes clamp the lamp to the power pack's handle and place it on a table or, when I'm using my pickup truck's open tailgate as a desk, I'll clamp the light to rear open edge of my camper shell and place the power pack nearby but out of the way.
Some of the advantages of this LED chart lamp are:
1. You can mount it anywhere.
2. It draws very little power; about 45mA at 12 volts.
3. Since it draws so little power, no on/off switch is necessary.
4. No glass bulb to break or replace.
5. Very even illumination for reading and writing.
6. The lamp cost about $20 to assemble.

Telescopes, Astronomy, Binoculars