From the
ATWB Customer Gallery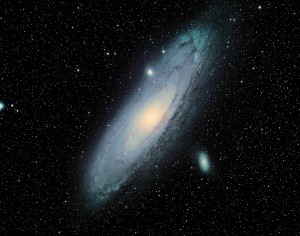 Andromeda Galaxy M31
Orion 3.6 Clear aperture Reflector
Orion has the 3.6 off axis newt on special for thier 33rd anniversary sale. I've waited for the price to come down on these and they are now $234. !! I couldn't resist at that price. And I'm glad I didn't!

The ota arrived safely with no damage. And to my surprise in perfect collimation. I only needed to snug up the lock screws a tad. Perfectly concentric diffraction rings in and out of focus - No astigmatism noted.

I've only had it out once so far under the stars and it performed very well. As good as my DGM scopes. Jupiter was first with a 16mm Russell eyepiece and was extremely crisp and clear. My 13mm Hyperion produced similar results. What blew me away was the double double - Easily split at 95X with the hyperion - but with my 2.8 Klee barlow at 267X it was amazing. Such a clear split of the closer components with only the absolute faintest of diffraction rings - just tiny perfectly round orbs - I really had to look for a ring. My Intes scope with 33% obstruction throws up a bright first diffraction ring and usually a faint second. The 3.6 was just pure stars- no rings to speak of to muddy up the view. I've played with it in the daytime some too and it really takes some ridiculous power. I like to test on a small tag hanging on a telephoe pole down the street - it's a numbered tag about the size of a quarter - About ten numbers on it so there pretty small.

With a 9mm ortho and a 3X barlow I get 413X - and it's crystal clear. So I added my 2X barlow to the mix - 826X and I can still clearly read the tag - although the heat waves disturb that somewhat.

It's a tiny mirror but I know I can expect great things from this scope. More testing to come for sure.
The tube is a seamed (like flue pipe tube) that dosen't thrill me - but it is sturdy enough. I like the cell, secondary holder and the fact it has a front end ring better than the DGM scopes. It just an 1-1/4 focser, but the motion is solid if not a tad stiff with no image shift noted at high power. So a good rating for the focuser.
I was skeptical of this scope for a while - the price was too high and was it just a cheap copy of a DGM scope? But once I got it I'm a believer. And at this price you just can't beat it. Can you get a 90mm apo for $234 ? I don't think so. Yes, the tube is much bigger but I can deal with that.

If you're like me and the price held you back before, now's the time you might want to try one out - before they're gone. Maybe the price will even go lower but I didn't want to take the chance on waiting.

I am not affiliated in any way with Orion telescopes, just a happy customer with a great new scope.

Telescopes, Astronomy, Binoculars