Captured by
Yue Ma
M42 NIR
A New Refractor On The Horizon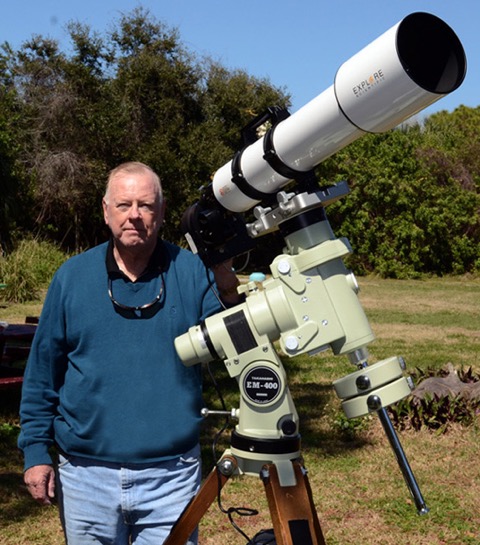 First let me preface, I am no expert in refractors. Most of my imaging and observing has been with large aperture, SCT's and Richey's. I have star tested a couple of TMB's, an Astro Physics and a Williams Optics FluoroStar but that's it.
So what's all the news about? I attended the Winter Star Party this year as I do every year but this year I got a surprise. Having passed the 70 mark, I was finding that handling the 12" RC's by myself was now out of the question, so I decided that now is the time to get a nice refractor. Explore Scientific was at the WSP with a complete lineup of their equipment. A perfect time for me to check out what they had. Their refractor lineup was very impressive with nice Apochromatic (APO) scopes made in Carbon Fiber and their aluminum counterparts. One 127mm that was set up was different. It seemed slightly larger and had a newly designed 2.5" hexagonal focuser. I had my favorite Tak 16 mm eyepiece, that I use to compare scopes and placed it in the diagional and pointed the scope toward the cell tower that had a nice glass light with the sun causing a hot spot for me to observe any spurious color exhibited with the scope. Racking the focuser in and out of focus, to my surprise there was NONE. Even through high quality refractors I have found there would be some color on such a rigid test as this. At this point Greg Bragg from Explore Scientific (who I already told that I was in the market for a 127) asked me how I liked the scope. Not sounding overly enthusiastic (you have to keep them guessing) I remarked that the view was excellent. It was then that he explained that the scope I had just looked through was a one of a kind. He explained that this scope is one of the first prototypes produced with O'Hara 100 glass and that the new name for the scope would be designated the 127 FCD-100. Scott Roberts (Pres. of Explore Scientific) was close by and asked me would I be interested in taking some astroimages through the scope. I immediately said yes I would and he said that I could take it back home with me. That day I took my RC off my EM-400 mount and mounted the new refractor. I was able to get three good images that night and after I got home, processed the data. I already new that the data was going to be great after I observed tiny pinpoint stars on my 600 sec subs in the core of the Rosette, same on the Owl and M78. The scope exhibited zero color shift.
I did a Rhonchi test of the optics and as expected saw razor straight lines on both sides of focus. Star tests on Sirius also exhibited textbook diffraction patterns.
Needless to say I had found my replacement scope. I called up Scott, he explained it was a prototype and despite the fact that he has never sold a prototype scope before he allowed me to purchased the scope.
When is this scope going on sale? You won't have to wait long. The release date is in April of this year. Now the real surprise!!!!!!!! The scope will be priced at less than $2,000.

Telescopes, Astronomy, Binoculars