From the
ATWB Customer Gallery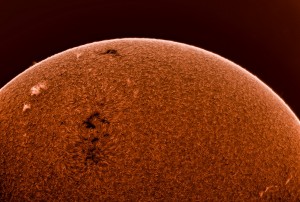 AR 2768 and AR 2769 from 8/1/2020 by John Small
A great little accessory!
I, like most of us I suppose, used to think that it was only the big ticket items that could significantly enhance the observing experience. But over time, I've come to appreciate that there are some inexpensive accessories that can increase the quality of observing, or reduce some of the equipment frustrations that detract from it. An example of the former is a comfortable observing chair, and the Starizona Virtual View II is an example of the latter.
The frustration that the Virtual View addresses is the inconvenience, discomfort, and potential equipment damage associated with manually rotating a star diagonal or camera that is mounted on the rear of an SCT. With a stock visual back or adapter, in order to rotate the eyepiece or camera, one has to loosen one or more setscrews, rotate the diagonal or camera, and re-tighten the setscrew(s). This can be an awkward, sometimes painful exercise, and if one is not careful, result in some very expensive equipment falling to the ground. The Virtual View acts not only as a 2" compression-ring visual back, but it also allows for easy rotation of the diagonal or camera without having to loosen any setscrews.
The Virtual View II is a complete re-design of the original Virtual View. Like it's predecessor, it's made from very high quality machined and anodized metal, but it is smaller and lighter, and has two small, thin adjustment thumbscrews sticking out about an inch or so from the body in opposite directions for control of the holding tension. Strange as they may look, the thumbscrews are the key to the Virtual View's success. With them, I could adjust the tension to easily rotate and, without changing the tension, securely hold a 2" mirror diagonal and a 35mm Panoptic eyepiece in any position. I have no doubt that I could do the same with even a heavy binoviewer and eyepieces. The Virtual View makes the process simple, comfortable, and safe.
The Virtual View II, in my opinion, is well worth the price.
Click here for more about this subject. -Ed.

Telescopes, Astronomy, Binoculars