From the
ATWB Customer Gallery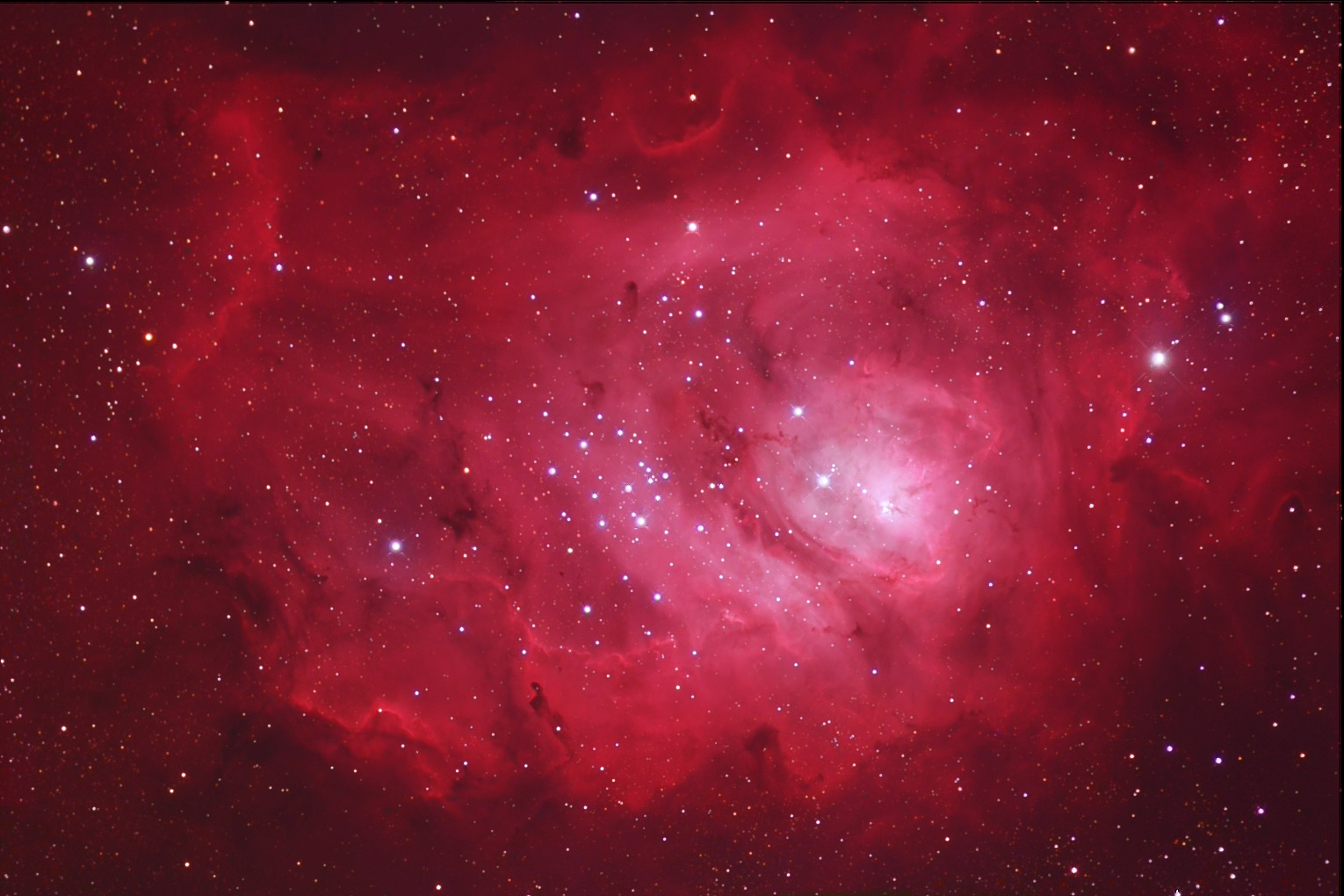 M8 - The Lagoon
Satisfaction Through Wide Field Imaging
[Disclaimer: I am not affiliated with Steve Mandel and have no financial stake in his enterprise]
Good, you're still here. Last chance to quit now if you want to just cut to the chase: This is a worthwhile investment if you want to get into wide field imaging. I highly recommend the Mandel Wide Field Adapter System.
Wide Field Imaging
Some projects are best stimulated by having the "end in mind". Such was the case with my desire to do wide field astrophotography. I simply wanted to image various constellations in the Milky Way, especially Sagittarius.
Since I already own an SBIG ST2000XM camera with a CFW-8 color filter wheel, I did a trade study to see what was out there as a first step on my quest of the wide field.
A quick internet search returned numerous hits for Steve Mandel's Widefield Adapter system. Mandel, himself an amateur astronomer who owns SBIG cameras with the CFW8. Apparently he couldn't get his cameras to focus when using a camera lens so he developed his own solution. At this point, I'll digress from the review and just say that this type of innovation is what appeals to so many of us involved in amateur and professional astronomy. We find a problem and develop a solution.
The Adapter
To solve the camera lens focus issues, Mandel designed a low profile adapter for the SBIG CFW8 that would hold a Nikon lens. Mandel's adapter is simply a machined faceplate that replaces the stock SBIG/CFW-8 faceplate that holds the lens close enough to focus on the chip. That's it, get a Nikkon or Nikkor lens, preferably fast and wide and mount it to the faceplate and you're ready to go. At a cost of $249 I thought the price for a piece of machined metal was rather steep. However, this is a quality product, machined to precise tolerances to accommodate your camera lens on your already expensive SBIG camera. To install the adapter, one merely uses a cross-tip screw driver to unscrew the faceplate and the motor housing and then replace them with the Mandel Adapter. This process takes less than five minutes.
The Details
Astrophotography is a lot like life, you can make things overly complex or you can attempt to succeed with a minimalist approach that achieves the desired end-state. Since this stuff is already fairly complex, I tend to try for the simplistic approach whenever possible. Before even purchasing the Mandel Adapter, I made sure my camera could be securely piggy-backed to my OTA tube rings. Once I acquired the faceplate, it was time to find the lens. Most of the best images appear to be taken with the 300mm Nikkon f/2.8 lens. This is a pricey lens to start with, so I opted for the "testbed" lens, a used 28mm Nikkor f/2.8 metal body lens that was incidentally purchased on Astromart.
With camera piggy-backed, lens mounted, and scope balanced, I set about to take my first wide field images. First try was a bust because I did not properly reinstall the Mandel Adapter plate to allow the filter wheel motor to rotate the filter wheel. After a quick deep breath and re-seat, it worked fine. Next night I got out and couldn't seem to get the SBIG to successfully complete its autoguiding calibration. This is when I realized that the field was too wide and I would have to autoguide my EQ-6 mount with my Meade DSI through the ED-80 OTA.
Like space exploration itself, astrophotography is replete with one step forward, two steps backward situations and this was one of them. Apparently my EQ-6 SynScan doesn't accept pulse guide commands. Oh well, adapt and overcome. Rather than spending a few hundred dollars on a new-fangled handbox, I sought an alternative solution. First stop, look for a Yahoo group. In amateur astronomy, if you have a question a Yahoo group has probably addressed it. To make my mount pulse guide capable I joined the EQMOD DIR group, bought a Shoestring Astronomy adapter, ditched the handbox completely (for wide field purposes) and now run the mount remotely from my laptop through this really nifty software called EQMOD.
About two months later (due to being sent somewhere) I tied the whole rig together and it worked like a champ. I was so pleased. Of course this test phase was around a full moon and not very conducive to imaging. It rained for the next six weeks in north Texas and Oklahoma so it wasn't until August 11th that I got to try out the Mandel Adapter out under some dark skies. Unfortunately, my primary target, Sagittarius proved elusive and I had to limit exposures as she sunk into the trees. However, Cygnus and Cassiopeia offered promising targets.
Finer Points of the Wide Field
Mandel's web site offers a history of how and why he developed his adapter as well as some excellent tips for successful imaging of the wide field. His recommendation to stop down or not use the fastest f-setting of the lens to avoid vignetting was sage advice indeed. At our club's dark site in Oklahoma I got distracted while setting the f-stop and placed what I thought was a 5 actually as an 11 on the first night. Since I was integrating images over multiple nights, I was stuck with this setting. Mandel also recommends setting up a Robofocuser to accommodate the extremely sensitive focus point. Again, simplicity rules and I had no problem using the MaxIM DL focusing routine to achieve mathematically precise focus.
Until shooting wide field images I never really considered the concept of "portraiture" in image composition. However, the Wide Field demands that the astrophotographer consider the rule of threes. My son, Christian, explained this to me last year and it bears mentioning here. The rule of threes basically says, divide your frame into three rows and three columns, roughly equal in width and height, like drawing a tic-tac-toe and try to align most (or the strongest) horizontal lines and vertical lines in your shot with the edges of the rows and. Also, one must consider how balanced the image will be with various globular clusters and nebulous elements competing for "eye-time".
One "cool" feature that people really seem to like is to post the image to a site that enables you to mouse-over and invoke the lines of the constellation. I did this with Sagittarius and folks really responded positively.
Bottom Line
The Mandel Wide Field Adapter System is pricey but well worth the investment. What the heck, if you've already got an SBIG, why not spend more of your kids' inheritance?
Click here for more about this subject. -Ed.

Telescopes, Astronomy, Binoculars