From the
ATWB Customer Gallery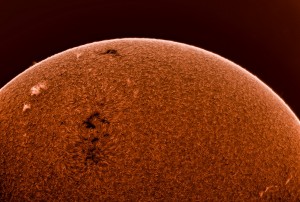 AR 2768 and AR 2769 from 8/1/2020 by John Small
ScopeRoller
I was the first Nexstar 11 scopeRoller customer. I worked with Clayton (email and phone) on the prototype. Since the Nexstar 11 is quite heavy, I really need a rolling mount for my wifes use. The base, which is made of Delrin (very tough stuff), slides over the tripod leg. Just remove the leg rubber caps and line up the angle of the leg with the base bore. The angle of the bore matches the angle of the tripod leg. You then snug up the three mounting bolts onto the leg. Not too tight or you will strip out the theads in the Delrin.



When I first used them, the image shake was quite severe while manually focussing. I removed the wheels and noticed quite a lot of play in the axel and also the top bearing. Using a wrench I snugged up the top bearing nut. Then the axell nut need snugging up. I tightened the nut just enough to allow the wheel to rotate with slight hand preasure on the wheel. This made a huge difference! The image shake is greatly reduced. There is no shake while walking close to the mount and with manual focusing only a very slight amount of shake is noticed. The new ones Clayton is making are already sent with the bearing play removed, so you may not have to adjust the bearing play. Remember that I was the prototype for the Nexstar 11. The wheels work and are very heavy duty. If you want to remove for transport, then just un-snug the bols and slide off the entire assembly.

I would highly recommend them if you need to move your scope a lot. Mine is on the patio, so after use I roll it back under the the patio cover. The photo is the assemblies when they first arrived. If you have a heavy scope, then you need these.


Telescopes, Astronomy, Binoculars