From the
ATWB Customer Gallery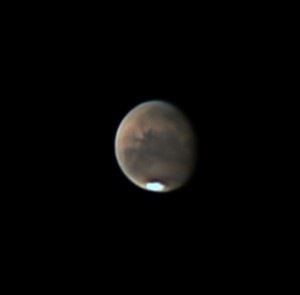 Mars 8-22-2020
Ken Dauzat Tube Rings
A bit more than a year ago, I decided to replace my aged Cave Student equatorial mount with a Losmandy GM-8. My 8" f/7 reflector had been mounted in the rotating ring assembly made by Parks Optical (who made the mounts for Cave Optical, long, long ago). Unfortunately, as much as I liked the rotating rings, they added ten pounds to my OTA--and making it just too heavy for the GM-8.
I spent a bit of time considering various alternatives, and settled on a set of hinged, felt-lined rings from Ken Dauzat. Because they were hinged, it was easy to remove the telescope from the rings. Because they had 1/4"-20 threaded holes in the base of the rings, it was easy to attach them to a standard Losmandy dovetail.
The rings arrived quickly--especially since they were made specifically for my tube diameter. (I have an older Parks fiberglass tube, and current production is a slightly different diameter.)
Finish is glossy black. If you look very carefully, you can see a few spots where the surface is slightly irregular, but you have to really look for those spots. Glossy black paint covers them up well.
The only real surprise was the thumb screws. The thumb screws themselves are nicely polished, and easy to use, but it took me more than a few minutes to figure out that some clear plastic tubes that were on the threaded ends of the thumbscrews were protecting the finish, and should be removed before attempting to use them.
The hinges seem to be quite solid, although since I have mounted the rings on the dovetail plate, I have only had a couple of occasions to open them.
Ken charged me $138 plus shipping for the rings--a bargain price for something that was a perfect fit for my tube.

Telescopes, Astronomy, Binoculars