From the
ATWB Customer Gallery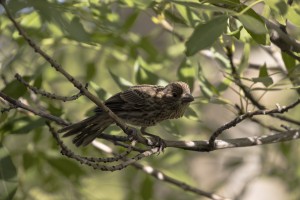 Paying attention
Orion Medium Poly Case: Makes Life Easier
Astronomy has a dirty little secret. Accessories breed. At first, I had a telescope and a couple of eyepieces. But, within just a few months, I had a shoebox full of delicate little treasures. Once the shoebox was spilling over, I had to expand into a cardboard box from one of my wife's cosmetics kits. I even sank to stowing eyepieces in dainty little bathroom storage tins. I needed help. My astronomy gear was in real danger of degenerating into a hopeless jumble of junk. It was a struggle to get out to the car with a telescope, star charts, and a precariously-balanced shoebox full of accessories. Once I realized that I was just a stumble away from an expensive disaster, I knew I needed an eyepiece case.
Of course, I didn't want to spend money on storing stuff. I wanted to save my money for more stuff. This led me to try making my own eyepiece case using a cookie tin and regular Styrofoam. This project ended in abject failure and a complete mess in our kitchen. We'll still be finding little white Styrofoam crumbs when we move out of our apartment. I didn't even try using my home-made case. If I did lots of little statically-charged Styrofoam pieces would simply attach themselves to my eyepieces. I decided to leave case making to professional designers and their minions in faraway places.
I decided to buy the Orion Medium Poly case because it appeared to offer a capacious interior, compact size, a good protection at a very reasonable price. When the case arrived, I was not disappointed. The interior was filled with thick die-cut foam that was pre-cut with circles for eyepieces and rectangles for other storage spaces. The exterior is made of rugged polyethylene plastic. Inside, the case is roomy enough for a beginner's eyepieces and diagonal. It is advertised as being able to hold three 2" eyepieces and eight 1.25" eyepieces. I've been able to store 8 standard sized eyepieces, 3 larger eyepieces, my diagonal, two eyepiece boxes, a moon filter, and a barlow. As a practical matter, I've found that the 2" eyepiece holes are great for holding bulky longer focal length 1.25" eyepieces.
There doesn't seem to be anything breakable on this case and it has held up well over a couple months of use. The medium-sized case seems like a good size for me and offers a little more room to grow. Best of all, the case has allowed me to safely get out of my apartment door and down to my car in one trip with a telescope, a tripod, a star chart, and all of my eyepieces. It simply makes life easier.

Telescopes, Astronomy, Binoculars