From the
ATWB Customer Gallery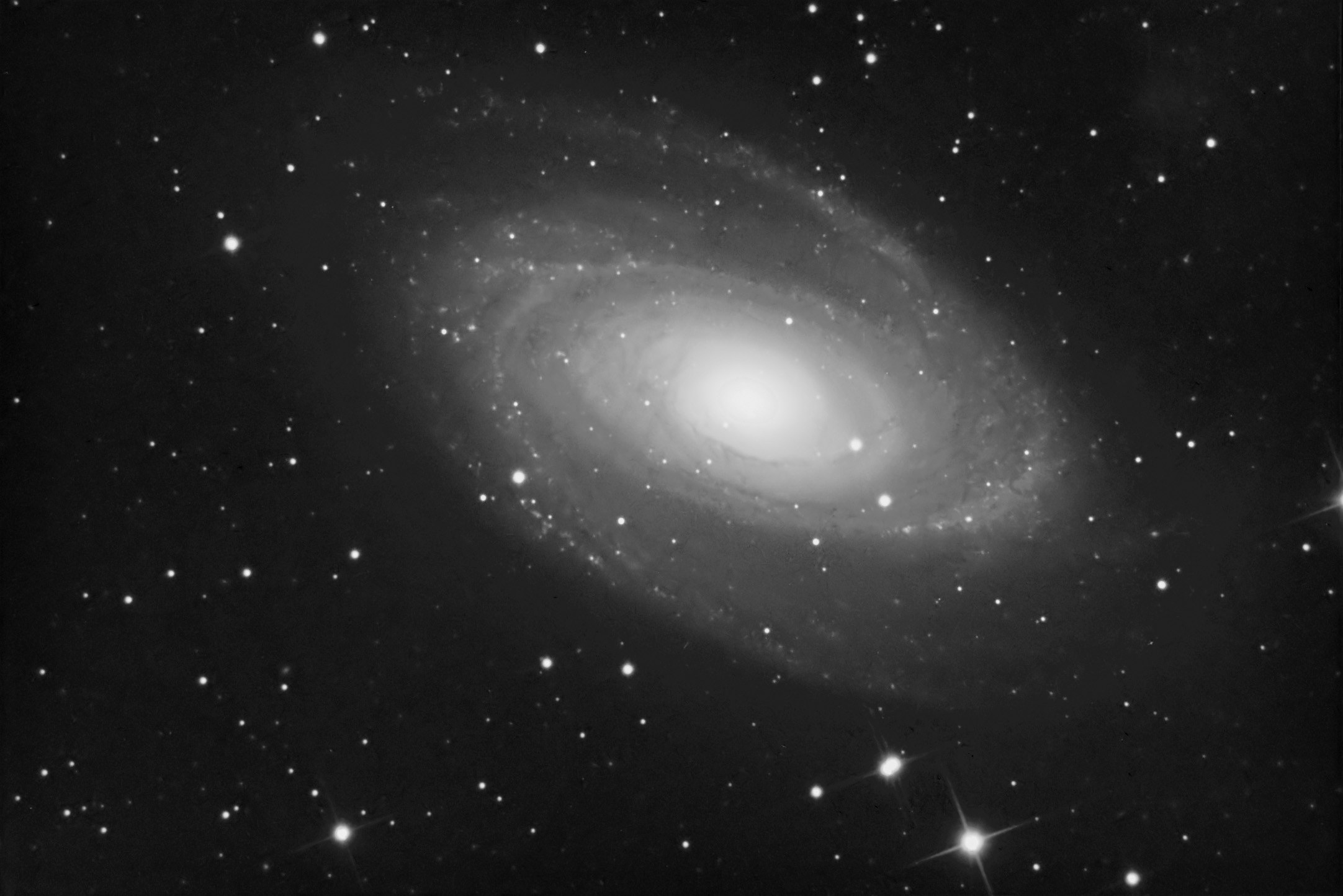 The Bode Nebula
Optimizing Your Backyard for Astronomy
Many amateur astronomers feel their urban backyard is next to useless for astronomy. They resign themselves to trek far out of town to some dark site, set up, and observe. At the end of the session these souls have to knock down their set-up and drive back home, cold and tired. Eventually trips become too much of a hassle, enthusiasm fades away and a fine telescope may find itself living in a really dark site: the back of a dark closet.
Dark site trekking astronomers also feel a certain pressure that really doesn't need to be a part of what should be an enjoyable pastime. For some, this leads to thoughts that the time has to be spent with high productivity and efficiency because of monetary, family and personal costs associated with observing sessions, thus decreasing the most important part of the hobby: having fun.
Backyard observing trumps dark site observing in a number of ways. The ability to just go out in your own back yard for just a half hour of observing can't be beat. You can observe more often with less frustration. The trick is to put in the time to optimize your backyard as well as the observing opportunities offered at your home location.
Optimizing Your Backyard
To get the greatest benefit, you must do a little homework on your backyard. Find an observing spot that gives you the greatest number of views possible for your telescope. In some cases you may want to use more than one area of the backyard if views are severely restricted. Align your observing site just off a corner of your house will give views in two directions. For each location:
•Establish a North-South line for your observing area, making initial set up faster.
•Set up your tripod on your observing spot during daylight and make sure the tripod is level. Keep the legs in their level elevation position when you store the tripod.
•Where possible, keep your tripod outside under a tarpaulin to save set up time.
•If unable to leave your tripod outdoors or if using a Dobsonian telescope, use three paving stones or other markers set into the ground to mark your position for repeatability.
Take Ownership of Your Night Sky
Becoming very familiar with the night sky that passes over your back yard is an important step to optimizing your observing. Start with identifying the major constellations that are visible and observe their progress over a number of weeks as they pass over your site. Take a pair of binoculars with you to see a little deeper and get acquainted with the equivalent finder scope view of your patch of night sky.
Dig up your star charts and observing guides and match up the viewing areas in your backyard to the charts. Match those constellation positions with your star charts. Over time, you will be able to define a swath of year round sky that passes over your location, and thus be able to plan observing sessions that are dedicated to your particular location. With modern planetarium programs, you can zero in on your backyard and print star charts that match your location. Using binoculars and charts gives you a good learning pathway to the night sky.
A few books will help you to set up and develop your observing agendas.
•Alan M. MacRobert's: "Starhopping for Backyard Astronomers. ,Sky Publishing Corp. 1993" guides you to objects that are just as valid with your go-to telescope. The book is a good guide on how to organize your viewing agenda within a constellation.
•David J. Eicher's "The Universe from Your Backyard. ,Kalmbach Publishing Co. 1988" is a good companion to MacRobert's book with its constellation-based format of observable objects.
Add to these two books the 20 charts from "Terence Dickinson's "Nightwatch, Firefly Books, 1998" and you will have all the resources you need for successful observing.
Depending on the light pollution conditions in your area, star-hopping from brighter stars to faint objects could be very rewarding or very frustrating. But even for those astronomers living under light polluted skies, all is not lost: technology can be your savior.
Going to a GO-TO Telescope
Are you more interested in looking at objects than looking for objects? A GO-TO Telescope allows you to reclaim your backyard as a primary observing site even under light polluted skies. These systems require only two or three; usually visible, bright stars for alignment. Newer systems don't even require the user to identify the alignment stars. Once the alignment is completed, the observer selects an object from a catalog stored in the telescope and the telescope slews to that object. Objects which were previously difficult to find using star hopping methods are now observable under light polluted skies. Again, good planning for a night of observing makes for a happier astronomer.
Seeing Stars
Realize that you won't be able to see all of the objects all of the time under your urban skies; local seeing and/or transparency conditions will not allow that to happen. The advantages of GO-TO telescopes finding reliability gives you the flexibility to return to an object and re-observe it many times during a session without having to find it again and again using star hopping methods. Seeing conditions may not be great at 10pm but at 10:21 you may have just the perfect viewing window.
Make no mistake, star hopping continues to be a great way to learn your way around the night sky, and it may offer more satisfaction for having found your object by your own wits; but for many backyards, GO-TO telescopes offer the ability to drink in celestial wonders with far less frustration. And always, a planned observing session will be more successful than one which is unplanned.
Optimize your backyard and take ownership of your night sky. With a little work and planning you could be just steps away from your astro-haven.
John Kulczycki
***
ADDITIONAL RESOURCES
Click here for a great in-depth listing of urban deep sky targets generated by the American Association of Amateur Astronomers and it includes a link to "An Urban Messier Report!" By Tony Flanders - Ed.
Click here Rod Millise's book on Urban Astronomy -Ed.

Telescopes, Astronomy, Binoculars