From the
ATWB Customer Gallery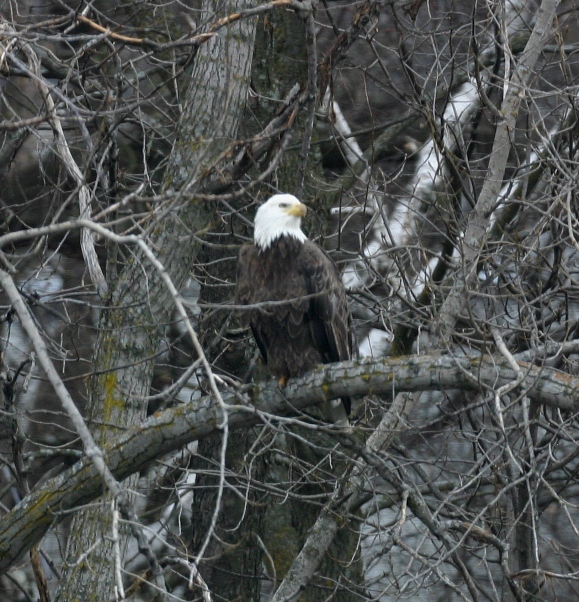 Suburban bald eagle
Meade 5000 Series 5.5mm Plossl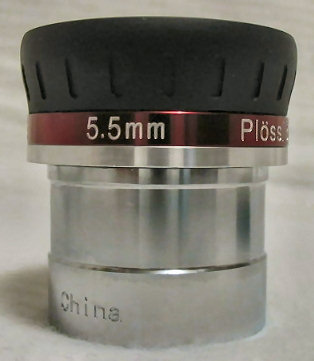 If you like using plossls, you will love the new Meade 5000 series 5.5mm plossl. Here is my assessment of the wonderful features of this eyepiece.
Overall construction is excellent. There is a twist up eyecup that feels firm when adjusted and stays where you put it. The 5000 series 5.5mm plossl has great eye relief, for a plossl that is. But eye glass wearers will find this eyepiece a bit too tight to use comfortably. If you are doing planetary observation with a motorized tracking mount however, it could successfully be used by an eyeglass wearer, but there are better choices like the Televue Radians. The eye cap is specifically designed for the eyepiece and fits well.
I prefer using "muscle-drive" alt-az mounts, and the 60* fov of this eyepiece make it a joy to use for high power viewing, even when barlowed. A star test done on a bright star showed perfectly centered diffraction rings separated by distinctly dark bands. When I moved the star to the edge of the field, the rings remained perfectly round right up to the field stop. This remarkable feature and the 60* fov give the Meade 5.5mm plossl a distinct advantage over standard plossls or orthoscopics when the observer is using a non-motorized mount. When I use this eyepiece in my 102mm f/7.75 apo refractor tracking was a breeze at 144x. Even with a Barlow tracking at 288x was not at all cumbersome, although I must admit that I am practiced at manually tracking at high powers. Your individual accomplishments may vary.
First targets: double and multiple stars. With my SV102ABV refractor, I get 144x and 288x as stated above. At 144x, Castor, Rigel, and Beta Monocerotis were easily split. Beta Mon also split into all three components, the B and C being 2.8 arc seconds apart. Analtak, a 2.4" split, needed 288x that night, although I have split tighter stars under 150x under steadier skies using my SV102ABV. With my 70mm Televue Ranger, I get 88x and 176x with a Barlow. Castor, Rigel, and Beta Mon all split at 88x. Analtak needed the Barlow for 176x to split. One note about Rigel: Rigel's companion is quite dim and can be difficult to spot when seeing is unsteady. I centered Rigel in the eyepiece (not using the Barlow) and follow it as it drifted to the edge. I was able to see Rigel's companion right up to the point where the star hit the field stop. Only at the extreme edge did the image distort enough to loose the split.
The image characteristics of this eyepiece make it a very good performer on lunar/planetary targets. In my Ranger at 88x, the Cassini Division on Saturn's rings was easily seen. An unfiltered view of Jupiter showed good equatorial band detail. Mars is now pitifully small, but with my SV102ABV and a Barlow at 288x I could see some detail in the albedo features. Lunar targets are equally impressive. In my little Televue Ranger and the 5.5mm 5000 series plossl barlowed to 176x, I saw the following features in one session: Catina Muller craterlet chain (seen and resolved), Catina Davy Y craterlet chain (seen but not resolved), Hyginus and Ariadaeus Rilles, Alpine Valley, "lakes" and mountain peaks in Mare Orientale, and lunar pyroclastic deposits in the crater Alphonsus. This was a very satisfying session with one eyepiece and a Barlow. I noticed no objectionable flare anywhere in the field of view. The lunar limb was tight and sharp. With my SV102ABV, I counted six mountain peaks in Mare Orientale, west of the Grimaldi Basin. I could see that one peak was larger than the rest and was actually a double peaked mountain.
Next targets: deep space objects. I have magnitude 4 light polluted skies in my yard, so high power viewing of many dso's can be problematic at best. With my SV102ABV, I easily spotted M77, the Cetus A galaxy. The bright core of NGC 2392 (Eskimo Nebula) in Gemini showed up well with this eyepiece. The 60* fov can make open clusters a joy as well. The 37 Cluster in Orion was a nice sight, as well as NGC 2301, that "weird one" in Monoceros.
I also own a 5mm Nagler Type 6 eyepiece. The Meade 5000 5.5mm cannot compete with the 82* fov of the NT6 of course, but I could see very little difference in image sharpness and contrast. On some targets, like double stars, I could see no difference in image quality, other than the slightly lower magnification of the Meade 5.5mm. Analtak was definitely a tighter double with the Meade eyepiece. But I also get a more "balanced" power combination with the Meade. For example, the 5mm NT6 gives me 192x in the Ranger when used with a Barlow. The Meade, as mentioned above gives me a more usable 176x, a better power in the little 70mm scope.
In conclusion, I think this is a very good quality eyepiece for under $100. If you have been looking for an inexpensive high power eyepiece with excellent optics and wide field of view, I think I may have found it.
David Elosser
Kernersville, North Carolina.
Click here for more about this subject. -Ed.

Telescopes, Astronomy, Binoculars