From the
ATWB Customer Gallery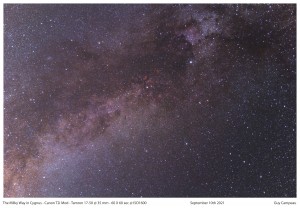 The M ilky Way in Cygnus
Losmandy backlash adjustment and worm alignment
[ARTICLEIMGL="1"]
Losmandy backlash adjustment and worm alignment by Scott Mefferd
There is a place between the worm block and mount where you can place a feeler gauge as seen in the photo. You can't see it on the GM 8 but there are flats present on the mount. On the G. 11 the flats are easily seen and the procedure is the same. You place a feeler gauge between the worm block and the flats on the Mount loosen the Alan screw and holding the block, press to fit the feeler snugly between in the flats on the mount and the worm block and tighten up the Alan screw.
Do this on both sides. Loosen up the set screws on motor side of the odem coupler check that you can turn the worm easily with your fingers.
The point to start out with: loosen both Alan screws and push the blocks as close to the mount gear as possible and re-tighten. Check the Gap and make equal on both sides. If this is too tight to turn the worm with your fingers add 2 thousands to the gap and retighten. Do the cold start on the Gemini and build a model of four, five stars and see if you get any motor Losmandy worm Backlash adjustment
lagging signals. If so increase the gap by another 2 thousands.
As can be seen in the photo the blocks are almost perfectly parallel to the worm as well to the transmission shaft and also the motor shaft!. I.e. holding the cover against the worm blocks and there is no gap between them. Also the end of the outside block is flush with the mount.
The clearance on my G. 11 was 6 thousands of an inch on both the RA and declamation. When I went and performed the cold start procedure. I got no lagging messages.
On my GM8 : 40 thousands on the right ascension and 38 thousands on the declamation. I got a motor lagging on the right ascension and increased the gap by two 1000s of an inch and I got no more motor lagging messages.
I also applied some grease to the Odem coupling, which smooths it out tremendously. I think that it is very important to have the motor shaft, transmission shaft, and the worm as much parallel as possible. The grease that I used is mobile one synthetic which has a high temperature rating, and therefore will stay where it is put, hopefully!
A picture tells 1000 words. So here they are:

Telescopes, Astronomy, Binoculars