From the
ATWB Customer Gallery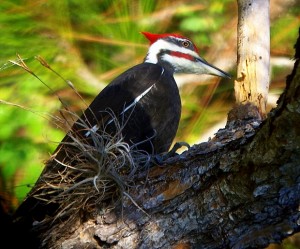 pileated woodpecker
Celestron Celestar 8 (basic)
Hi, I'm new to astronomy and bought myself a Celestar 8 for around $600. I live in Malta (European small island with population of 470,000 people and our own language, Maltese) so had to pay quite hefty postage and customs charges but I knew that this telescope had a good reputation and would be worth the money. Here in Malta we have mostly clear skies and the light pollution is not too bad especially when going to the edge of the island which is pitch dark and a stargazer's paradise.
The telescope is split into three main components, the OTA (optical tube assembly), the wedge and tripod. In the case of the Celestar (basic model, not deluxe) the tripod and wedge are combined into a wedgepod. The telescope is very high quality and Celestron, in particular the 8" (otherwise known as the C8) has a very good reputation for being a great all round telescope. The wedgepod is suitable for observation but needs modifying or upgrading for long exposure photography. Replacement wedges and tripods are available from Celestron but are expensive and heavy. I managed to take a few shots of the moon and planets using the wedgepod but you really need a sturdier and more adjustable mount for longer exposures. The main problem is that the wedge cannot be adjusted in azimuth easily, the tripod's legs are not height adjustable and there is no fine control for the latitude adjuster. A better version of the tripod and wedge is supplied with the Celestar Deluxe model so you may want to consider spending that bit extra for a better mount. Personally I decided to retrofit my wedgpod by manufacturing an azimuth plate with a fine control for azimuth and latitude. Further information can be found on the pictures section of the Celestar users group in Yahoo at: htttp://tech.groups.yahoo.com/group/CeleStar_8_users . I'm also in the process of making a wheeley bar (tripod dolly) to allow me to level the tripod onto which I've fitted a circular bubble level). All that said, the optics are excellent and views of the planets, deep space nebulas, star clusters and double starts are pretty impressive.
The telescope is fitted with an RA Clock Drive which is fine for basic tracking but you will require a hand controller for improved tracking and photography. A hand controller is not provided with the basic model but wiring diagrams on how to make your own are available on the net (contact me if you need more info or refer to Yahoo Celestar users group, files section) and this will help with RA speeds. A declination motor is not provided, however JMI supply these for around $100. I have not needed one so far but may purchase one in the future. JMI also supply motor focusers which are ideal to eliminate vibrations especially for astrophotography. The RA drive on the deluxe model has a number of different modes for plants, deep space, moon and sun and is therefore more adaptable to the different rates. There is some slippage in the mechanism so fine adjustments especially in long exposure photography would have to be made, hence the hand controller.
Another couple of minor drawbacks are the prism diagonal, which many reviews declare as rubbish. I haven't compared with other diagonals but I'm sure they're right so replace this with a better quality mirror one. The 6x30 finder scope is also pretty useless but you can upgrade this to a 8x50 or even better buy a Telrad or red dot finder. I improved the finder scope by opening it up and removing a metal spacer that closes the field of view. You may want to upgrade to a 8x50 finder. Since the OTA suffers a little from vibration filling the legs with sand for improved stability and the use of anti-vibration pads will do the trick. Control knobs for setting the latitude scale and bolting the OTA with fork to the wedge are not provided so purchasing a set of these from a local hardware store is a must. The sizes are OTA to Wedgepod (3) = 3/8-16 x 1", Latitude Lock (4) = 1/4-20 x 3/4"
The Celestar comes with a Celestron 25mm SMA eyepiece which is fine to start with but you will soon start looking for new eyepieces.
As you can gather from the above, the Celestar is a very versatile telescope that you can be content with for a lifetime. It is upgradeable, takes almost all known attachments. Polar alignment gets some getting used to especially if you want to be accurate but otherwise it's a compact scope that you can take anywhere and see almost anything the armature astronomer could ever wish. I hope that you find this review useful and please bear in mind that I'm just starting out. Clear Skies.
Click here for more about Celestron telescopes. -Ed.

Telescopes, Astronomy, Binoculars