From the
ATWB Customer Gallery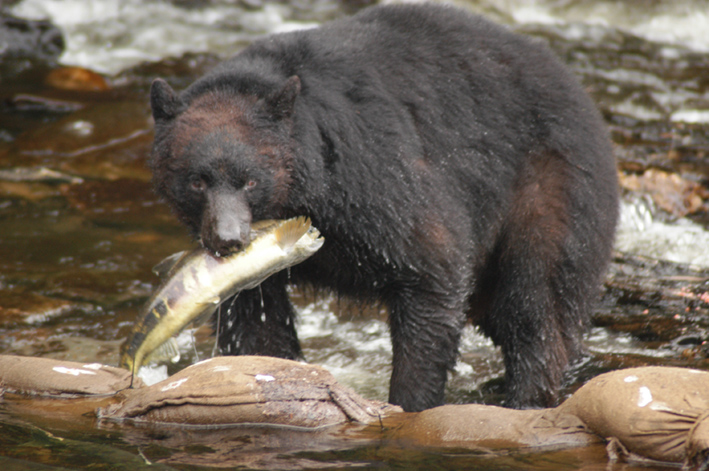 Bear catching Salmon
Supercharge Your Hobby with a Telescope Supercharge
If you own a telescope and take amateur astronomy seriously then you may want to consider getting a Supercharge. The Supercharge is a service performed by the Arkansas Sky Observatory's (ASO) principal, Dr. P. Clay Sherrod. The Supercharge service doesn't add fancy bells and whistles to your telescope, rather it improves the manufactured product enormously by bringing it up to idealized engineering design standards intended by the manufacturer. Dr. Clay, as he is known, refers to this as "blueprinting" your telescope. My Meade ETX-125 underwent a Supercharge in December 2004, therefore this review addresses the ETX service, however Supercharge services are available for all large and small telescopes. So why would anyone want a Supercharge, what does the service provide, and how do you obtain a Supercharge?

If you feel your scope needs some maintenance or has just seen better days, then the Supercharge may be for you. I owned my ETX-125 about two years, during which time I mobilized for a war, transported the scope across America 1.5 times, and used the heck out of it in all conditions. Performance was beginning to diminish on my trusty travel-mate. As a Christmas gift, my wife suggested something astronomical for me. Realizing that a "new" scope wasn't in the making, I did some research and found that for $245 I could get the ETX fixed up to better than new condition. Admittedly, I was skeptical at first, but assumed the price was worth a thorough periodic maintenance. The good news is that the cost of the Supercharge was a bargain for what I received. I got into ASO on a cancellation almost immediately before returning to Vandenberg AFB, CA for military duty as a Space Officer.

Unfortunately, Dr. Clay's 83-point comprehensive inspection revealed my optical train was about to come apart, the primary mirror was loose, major clutch binding in the Dec axis, and major issues in the flip mirror were at hand. Dr. Clay notified me immediately of the options. We discussed the situation and agreed that rebuilding the optical train was the best bet. As scheduled, I received the telescope, an extremely detailed narrative of the work performed, the actual two-page Supercharge© Telescope Tuneup inspection bench-test checklist, a four-page Custom Autostar Library Directory of the new upload (plus 3 ½" floppy with data), a fancy certificate, a medallion, and a Supercharge placard on the base of the ETX-125.

The Supercharge provided me with a telescope that works much better than new with excellent tracking, go-to accuracy, and optical precision. Dr. Clay packed the Autostar with 30,087 objects, 3 satellites, 103 asteroids, 160 comets, The Sun, 18 custom "Tours", and two locations of my choice.

Obtaining a Supercharge requires contacting ASO to schedule the service. The Supercharge service appears to be in high demand, so advance scheduling is necessary. Detailed shipping instructions are provided on the website. Telescope owners are encouraged to provide specific information about their equipment to enable more focused service. Bottom line, follow the instructions and provide the requested information and you will have no problems. I've been around thousands of amateurs and professional astronomers and have yet to hear a single negative word about the Supercharge service…enjoy yours.


Telescopes, Astronomy, Binoculars