From the
ATWB Customer Gallery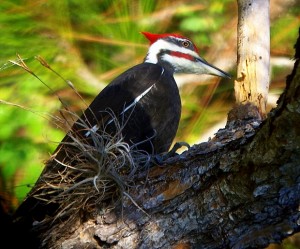 pileated woodpecker
Skywatcher 120st F5 Review - December 26, 2006
Skywatcher 120st F5 Review
My Usage
--------
Being an F5, 600mm scope, the 120st is known for its chromatic aberration and is not by far a scope that you'll be pushing high magnification on. This scope is considered a "rich field" scope. The wide field views are quite stunning.
My main purpose for buying this scope was for portability. I can walk this scope out complete on its mount and go from viewing in 0 to 60. Its also easy to transport and only consists of two pieces. The mount and the optical tube.
I have "upgraded" many parts on this scope. I replaced the rack & pinion focuser with an Antares crayford dual speed focuser. I am using a William Optics Enhanced 2" diagonal. I use a Stellarvue Deluxe Multi-reticle finder instead of the standard red dot. I also use a dual axis drive to keep objects centered in the FOV. My eyepieces are above average eyepieces as they are the Meade 5000 60 degree plossls.
While observing, my first order of business is to use the 20mm (30x) to look for objects after pointing my red dot finder in the area of the sky I want to scan. This eyepiece yeilds me 2 full degrees of sky. I had no difficulty in spotting objects such as M57, M13, M32.
I do the majority of my viewing with my 9mm (67x) once I find my object. Should I need extra magnification I use my 5.5mm for (110x). I keep my barlow handy to double the magnification of any eyepiece as needed.
On many nights, 220x may be too much power depending on seeing conditions. Based on the eyepiece/barlow combination that I use, 134x seems to be the norm if I want to "amp up" the magnification.
DSO
----
Given that the scope is 4.7 inches of pure aperture, the scope performs extremely well on DSOs.
M57 and M13 were very easy to spot at 30x and easily recognizable at 67x with averted vision.
I found M42 to be much more "contrastier" in this scope than my old 5.1" newtonian.
I am working from my backyard and only able view a certain area of the sky and need to wait for the sky to come to me in many instances. So my viewing of what DSOs I could see has been limited in that sense.
Double Stars - Castor
---------------------
I had no trouble in splitting this double. At 67x, you could tell it was elongated. The double was split well at 110x. At either 110x or 220x, it didn't seem to matter whether or not I was using the V-Block. Either way I was getting some chromatic aberration. It wasn't too much of a eyesore, but there was just enough there to let you know that you were not using an Apo.
Planets - Saturn
----------------
Only one planet has been out since I've purchased my scope, and that was Saturn. I was running low on time so I was not able to view the planet as much as I would like have liked.
I was able to barlow my 5.5mm to achieve 220x. The view wasn't the greatest at this magnification. It could have been the seeing for all I know.
I then barlowed my 9mm for 134x and the view was more desent. I was not able to see the Cassini division. Again, it may have been the seeing.
The Moon - Waxing Gibbous Phase
-------------------------------
At 30x, there is a touch of chromatic aberration around the limb of the moon which I noticed go away when I positioned my eye a certain way.
At 67x, the chromatic aberration was noticeable, but could be overlooked. I took out my Orion V-block/Minus Violet filter and it removed quite a significant portion of the purple halo. With the V-Block attached, you really had to look hard to any purple around the limb of the moon.
I was able to bump up the magnification to 220x and view along the terminator without too much trouble. The air wasn't very steady as I could see the craters "boiling". Not a very good night to "amp up" the power, but still a respectable image none the less.
The V-Block/Minus Violet Filter did give the moon a slightly yellow cast to the moon.
The Moon - Full Moon
--------------------
I will attempt to review this scope again with we have a full moon.
Aperture Mask
-------------
I have decided to create an aperture mask as an extremely low cost solution to see how much CA I can reduce.
For those that do not know what an aperture mask is, it is simply something that covers up the lens to let in a less amount of light and slow the scope down. Which in turn lowers the amount of chromatic aberration seen to the eye.
The main usage for the mask would be viewing of bright objects like the Moon, Venus, Jupiter. Many users of this scope have complained that these objects looks "horrible" due to the amount of chromatic aberration they produce.
The dew cap thats comes with the scope has its own aperture mask. If you use that mask, the scope is reduced to a 50mm F/12 scope. This will eliminate chromatic aberration but at an extreme loss of light grasp.
I created a template in MS Word to print on satin board paper and tried to turn my scope into a 90mm F/6.6. I didn't notice any decrease at all in chromatic aberration around the limb of the moon.
I have a feeling that it will work better with planets. I have yet to test this out.
I have another template to test out. An 80mm F/7.5. If that doesn't work, then the problem could be with what I am using as a mask. I may need to use a thicker material as the material I am currently using is satin board.
Minus Violet Filter
-------------------
A minus violet filter is supposed to work just like the aperture mask in reducing the amount of chromatic aberration seen to eye without the loss of light grasping.
On the moon, it is necessary to remove any purple halos around its limb.
Currently needs to be tested on the planets.
Results
-------
This scope is what it is, a rich field scope. If you're looking for high magnification at all times, this scope is not for you. It is suberb for low and medium powers. With that said, I have had no issue with getting to 220x on the moon and Saturn.
In my opinion, people's cry about the chromatic aberration with this scope is entirely uncalled for and overrated. Its really not that bad. You need to remember that at the end of the day this is a $500 scope. Thats $500 for 4.7" of clear aperture and a desent mount. You can't go wrong for that kind of a price. Plus its a lot more portable than many other scopes.
It seems to be that most people who carry on about the aberration are using the scopes more so for astrophotography than visual use. Visually all of the CA that I have seen is acceptable. Yes it would be nice to be 100% eliminated, but you can't expect APO quality from an Achro.
As long as you realize that 1) this is NOT an aprochromatic refractor and 2) you're willing to work with this scope (by way of minus violet filters and aperture masks) I'm sure this scope will prove itself extremely useful.
Click here for information about a similar scope from a different supplier. -Ed.

Telescopes, Astronomy, Binoculars