From the
ATWB Customer Gallery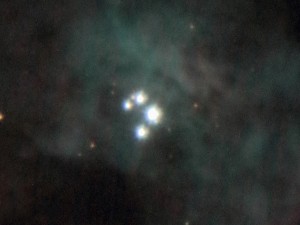 Trapezium via Siebert 36mm Observatory Series Eyepiece projection
Quantum Teleportation -- Not Quite Star Trek... But It is a Start
According to a report in MIT Technology Review, researchers in China have teleported a photon from the ground to a satellite orbiting more than 500 kilometers above.
Last year, a Chinese-made Long March 2D rocket took off from the Jiuquan Satellite Launch Center in the Gobi Desert carrying a satellite called Micius, named after an ancient Chinese philosopher who died in 391 BC. The rocket placed Micius in a Sun-synchronous orbit so that it passes over the same point on Earth at the same time each day.
Micius is a highly sensitive photon receiver that can detect the quantum states of single photons fired from the ground. That's important because it allows scientists to test the technological building blocks for various quantum feats such as entanglement, cryptography, and teleportation.
The Micius team has just announced the results of its first experiments. The team created the first satellite-to-ground quantum network, in the process smashing the record for the longest distance over which entanglement has been measured. And they've used this quantum network to teleport the first object from the ground to orbit.
Quantum teleportation has become a standard operation in quantum optics labs around the world. The technique relies on the strange phenomenon of quantum entanglement. This occurs when two quantum objects, such as photons, form at the same instant in time and in the same location in space, and so share the same existence. In technical terms, they are described by the same wave function.
The curious thing about entanglement is that this shared existence continues even when the photons are separated by vast distances. So a measurement on one immediately influences the state of the other, regardless of the distance between them.
Back in the 1990s, scientists realized they could use this link to transmit quantum information from one point in the universe to another. The idea is to "download" all the information associated with one photon in one place and transmit it over an entangled link to another photon in another place.
This second photon then takes on the identity of the first. For all intents and purposes, it becomes the first photon. That's the nature of teleportation and it has been performed many times in labs on Earth.
Teleportation is a building block for a wide range of technologies. "Long-distance teleportation has been recognized as a fundamental element in protocols such as large scale quantum networks and distributed quantum computation," says the Chinese team.
In theory, there should be no maximum distance over which this can be done. But entanglement is a fragile thing because photons interact with matter in the atmosphere or inside optical fibers, causing the entanglement to be lost.
As a result, the distance over which scientists have measured entanglement or performed teleportation is severely limited. "Previous teleportation experiments between distant locations were limited to a distance on the order of 100 kilometers, due to photon loss in optical fibers or terrestrial free space channels," says the team.
But Micius changes all that because it orbits at an altitude of 500 kilometers, and for most of this distance, any photons making the journey travel through a vacuum. To minimize the amount of atmosphere in the way, the Chinese team set up its ground station in Ngari in Tibet at an altitude of over 4000 meters. So the distance from the ground to the satellite varies from 1400 kilometers when it is near the horizon to 500 kilometers when it is overhead.
To perform the experiment, the Chinese team created entangled pairs of photons on the ground at a rate of about 4000 per second. They then beamed one of these photons to the satellite, which passed overhead every day at midnight. They kept the other photon on the ground.
Finally, they measured the photons on the ground and in orbit to confirm that entanglement was taking place, and that they were able to teleport photons in this way. Over 32 days, they sent millions of photons and found positive results in 911 cases. "We report the first quantum teleportation of independent single photon qubits from a ground observatory to a low Earth orbit satellite, through an up-link channel, with a distance up to 1400 km," says the Chinese team.
This is the first time that any object has been teleported from Earth to orbit and it smashes the record for the longest distance for entanglement.
That's impressive work that sets the stage for much more ambitious goals in the future. "This work establishes the first ground to satellite up-link for faithful and ultra-long distance quantum teleportation, an essential step toward a global scale quantum internet," says the team.
For more information:
https://www.technologyreview.com/s/608252/first-object-teleported-from-earth-to-orbit/
http://www.pbs.org/wgbh/nova/next/physics/scientists-generate-quantum-entanglement-in-space-for-the-first-time/
http://en.ustc.edu.cn/highlight/201706/t20170612_279075.html
http://english.cas.cn/newsroom/news/201707/t20170711_179511.shtml
http://english.cas.cn/newsroom/news/201706/t20170619_178281.shtml
http://english.cas.cn/newsroom/news/201706/t20170619_178279.shtml
http://english.cas.cn/newsroom/research_news/201706/t20170619_178278.shtml
https://www.astromart.com/news/news.asp?news_id=1528
http://www.astromart.com/news/news.asp?news_id=1341
http://www.astromart.com/news/news.asp?news_id=1076
https://www.astromart.com/news/news.asp?news_id=1561
https://www.astromart.com/news/news.asp?news_id=1555
http://www.astromart.com/news/news.asp?news_id=1417
http://www.astromart.com/news/news.asp?news_id=1450
http://www.astromart.com/news/news.asp?news_id=1438
http://www.astromart.com/news/news.asp?news_id=1434
http://www.astromart.com/news/news.asp?news_id=1350
Click Here For ---->>>> Astromart News Archive
Do you enjoy reading these News Items? Then buy the Astromart staff a cup of coffee (and maybe even some donuts).
Click Here ---->>>> Support Astromart

Telescopes, Astronomy, Binoculars