From the
ATWB Customer Gallery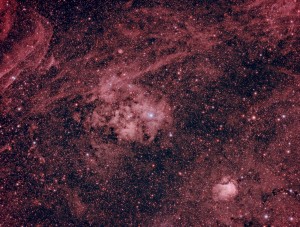 Sh2-115 Nebula
Surplus Shed Rubberized Roof Prism 8x21 Monocular
Who knows what the mysterious helicopter circling downtown is doing? Who knows what's going on across the street in the railroad yard? Who knows what kind of bird of prey is building a nest on the roof? Who knows the license plate number of a car eight floors below and two blocks away? Who knows what the crazy homeless man on the corner is doing? Who knows? The Monocular Men know and I just joined their ranks a month ago.

Who are the Monocular Men? The Monocular Men are optics geeks who disguise their identities by discreetly using monoculars. They each own a tiny handheld monocular that give them the magnifying power of binoculars in a package that can easily be hidden in a pocket. My monocular gives me the secret ability to see far off objects at 8x magnification. It is a superpower. To be a Monocular Man, I must keep it hidden and use it for good and never for evil.

What does it take to become a Monocular Man? Only $9 plus shipping and handling yields a "Rubberized Roof Prism 8x21 Monocular" from the Surplus Shed. Let me tell you more about this incredible little bargain monocular. It has a rubber armored body that measures just over 3 ½ inches long (9cm) and about 1 inch diameter. It provides 8x magnification and has a 21mm achromatic doublet objective. A roof prism ensures that you get an erect image. The optics are coated. The monocular provides a 128 meter field of view at 1000 meters. This tiny instrument focuses by twisting the three-element eyepiece. It comes with a strap and a little nylon carrying case.

At only $9, this monocular definitely has limitations. First, a monocular can be a very useful tool for watching birds and butterflies. However, this one does not focus well on nearby objects. To focus well on half-inch high letters on a poster in my home, I need to be about 20 feet away. Coated optics also provide the lowest level of protection against internal reflections. You can intermittently catch various reflections, glints, and gleams with this monocular. Since I typically use the monocular for quick observations of street life from inside a building with tinted windows, I have not found this to be a problem. When I first started using the monocular, this eyepiece focuser seemed a tad stiff but after a month of use it twists and focuses easily. The optics are fair and can yield a sharp image particularly in the center of the field of view. I have been able to read license plates on parked cars that are about 8 floors below me and two blocks away. However, the quality of these optics is not as good as a decent pair of department store binoculars. The 21mm does not admit as much light as the 35mm or 50mm objectives of typical binoculars. It is also more difficult to acquire moving targets with the monocular. While the monocular is clearly not as good optically as a pair of binoculars, I can carry my monocular at all times and make informal observations any time something catches my eye. I wish this monocular had lens and eyepiece caps since it does tend to attract dust and pocket lint.

For example, one evening last week a strange helicopter seemed to be doing laps near my downtown office building. It had outriggers jutting out about 10 feet from each side. At first glance, I could have easily thought it was international terrorists conducting some strange crop dusting attack. But, thanks to the monocular, I could quickly see that the helicopter had some kind of camera pod under its belly and some kind of communications bubble on the end of each outrigger. Using the monocular, each time the helicopter passed, I was able to discreetly observe it. However, it always took me several seconds to acquire it with my monocular. In contrast, with the 10x50 binoculars from the trunk of my car, I was able to see the helicopter much more quickly and with more detail and clarity. However, I can't very well keep a pair of binoculars with me at all times.

Overall, I've had much fun with my Surplus Shed monocular. The $9 I spent for it was easily the best $9 I've ever spent on any optical device. I've used it to read far off billboards and watch birds, planes, trains, police activity, crazy homeless people, and all sorts of city life. It coexists easily in my pocket with my cell phone. In an emergency, I can see the action, get a plate number, and call it in. It's a blast to be a Monocular Man.




Telescopes, Astronomy, Binoculars