From the
ATWB Customer Gallery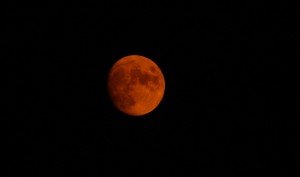 Disco Inferno
Meade 5000 14mm UWA Impressions
[ARTICLEIMGL="1"]First, some correspondence replies (with permission) from a knowledgeble friend and owner of a pair of these:
"Just a follow up on the Meade 14mm UWA. I have it in my Meade 10" SN (f/4) and stars are pinpoints to at least 80% of the field, extremely flat field, no ghosting and excellent contrast. I can't understand Alan Dyer's poor rating unless he got a bum eyepiece?"
"No 'kidney bean' blackouts even during the day, when tested on my Sky 90. Also, the adjustable eyecup allows very comfortable eye placement."
"The 14 UWA's just came to focus in the BT-80's. I did notice some pincushion, although not objectionable. This was on a brick building at infinity. I don't know if it would be as obvious astronomically. I actually did get a chance to briefly view the gibbous moon. The image was extremely sharp and contrasty with an AFOV of about 1.3 deg. and no kidney bean, once the eyecups were adjusted.
I could easily take in the whole field of view."
"Curious. I never looked through the Meade 14mm 4K's maybe they were better. But I had no problems with SA, eyerelief or major curvature of field on the 5K's???"
"It seems no one likes the eyepiece. :~(
I think he [another amateur commenting on the model] is fairly accurate to a point, but I think the edge is better corrected than he claims, and I saw no internal reflections whatsoever. I have never seen a wide field eyepiece have perfect edge correction in an f/5 scope. I'm curious to see what your impression is."
My own initial firsthand notes as emailed to another friend:
"Got my 14mm UWAs in hand and am not happy so far. They don't match in coatings, or, believe it or not, the blue cosmetic trim color. When looking through them against illuminated white paper the one with lesser looking coatings seems ever so slightly less bright and is slightly amber toned compared to the other which is neutral. I tried them as a pair in daylight in BV [binoviewer] on the moon and I could not, no matter how I tried, look to the far left or right at extreme angles toward the field stop. An issue sometimes found with WA types in BV. They also kidney beaned more than I like. This was even after variously setting the diopter and eyecups carefully in all possible accommodating positions. I must say they do look absolutely fabulous mounted in the BV, however. Will try again momentarily at night to try and note any differences with the moon again. My best guess is that these are needing to go back..."
Nighttime Shock Treatment!
Instrument 16" f/5.85 Newtonian w/ & w/o Zeiss Baader Mk V binoviewer. 12-9-05, average seeing and good transparency. Moon one day past first quarter. Clear but bitterly cold 14° F. References to Nagler 13mm T6 are indirectly made. I have however owned and used 4 examples of this competing model extensively with same, near identical and other instrumentation so there will remain some validity in comparison. I also possess over 20 years amateur experience as an eyepiece jammer. The brief breakdown summaries are:
Excellent level of on-axis sharpness and contrast observing the Moon, Mars and M42.
Has a bigger lensed eyepiece image "feel" than a 13mm T6 (may be partly due some larger center lens elements). I seem to want to describe this as a greater "openness" of view.
Significantly less of what I will call image stretch and bow distortion than the 13mm T6. It is something induced by lateral eye movement off center axis.
Sharp to approx. 80% center-to-edge at f/5.8 so not as good to edge as the 13mm T6 which was approx 90%. With system corrected to f/7.3 the 14mm was sharp to approx 95%.
Deep sky picture window has very expansive, impressive feel. Much wow factor built into it.
Potentially less lateral color (would need do side-to-side comparison to know for sure) while viewing moon limb off-axis.
Eye relief approx. 8mm where 13mm T6 was approx. 10mm.
Somewhat more kidney beaning than 13mm T6 on bright moon.
Under above bright condition there is need to back slightly away from full field view to have control of kidney beaning.
Has a rather comfortable FOV to eye swing but at expense of having to move head sideways slightly to catch opposite extreme portion of field and field stop.
The rather large and rounded eyepiece body is a little harder to control installing or replacing eyepieces to storage. I usually handle both of a pair at one time with one hand. Would have been better design to have swath of diamond knurling across widest part of the center body.
Summary:
The pair came drop shipped directly from the Meade factory at the same time. As noted, both were found to have differing coatings on eye and field lenses. One being a duller coated overall system than the other. Indoor through the glass transmission and white background testing showed the one being superior to the other.
Overall I was surprised yet extremely impressed because the image is shown huge, well corrected, sharp, contrasty and particularly exciting to behold. I hope to shortly exchange the lesser one received for a better matched example and keep these in my accessory case. My other scope to try and ultimately use these with is a moderate sized f/5 achromat refractor corrected and operated at f/6.25. I believe I will remain well satisfied.
Click here for more about this subject. -Ed.

Telescopes, Astronomy, Binoculars