From the
ATWB Customer Gallery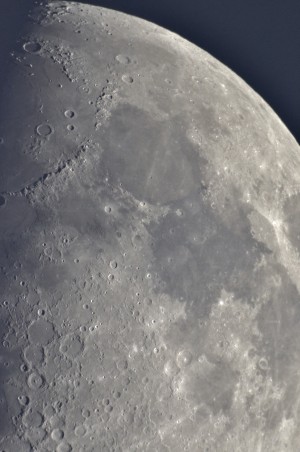 Moon Snapshot with Starmaster 11 "Shorty"
Stellarvue SV50 finder - spotter version
Stellarvue SV50 finder scope – spotter version
I recently decided that I wanted some sort of spotting scope to take along with me on my many business trips. It had to be light, photo-tripod mountable (ie: less than 3lbs), and use standard 1-1/4" astro accessories as I already had a bucket of eyepieces. It should also be reasonably good optically and not cost a fortune.

I have a Ranger that I was hoping to push into this role, but by the time you factor in the weight of the OTA and a tripod rigid to carry it without undue vibration, it adds up to almost 8lbs....more than I want to lug around in my suitcase for casual peeks.

Most standard spotting scopes can meet the first two criteria, but rope you into proprietary zoom eyepieces with a limited power range. Some of them can accept 1-1/4" EPs, but to get good optical quality, they can be very pricey.

Enter the Stellarvue SV50. I had read about this baby refractor/finder online and thought that it sounded like it would meet my needs. If nothing else, if it failed in the first deployment as travel scope, it could always fall back to a finder role on my 8"F7 Newtonian...

Here are my thoughts and impressions.

General construction and first impressions

I bought this used on an on-line astro buy-sell site. It came in a strong foam lined box with cut-outs for the scope. It came fully assembled with EP in place. Even though it was used, it looked new.

The SV50 is a 50mm F4 (200mm FL) refractor using a cemented achromat doublet for the objective. It is available in a spotter and finder version. The spotter version differs from the finder version in as much as it has a 'clamshell' mount with threaded holes for camera tripods in its lower face - the finder version is intended to be mounted in rings. Also, the spotter version does not have a crosshair eyepiece.

Both spotter and finder types have a smooth integral helical focuser on the topside of the diagonal that accept standard 1-1/4" eyepieces. The SV50's are RACI versions – ie: right angle/correct image and the Amici prism diagonal cannot be replaced with other units. The 50mm objective had nice even dark green coatings and is protected from dew and extraneous light by a fixed dew shield that extends about 2" in front. The lens cap is a poor fitting thin plastic push-on that tends to stay in the box when you take out the finder.... The gloss black paintwork and anodizing were flawless.

The clamshell allows the complete body to be rotated and there is a thumbscrew lock to maintain this position although on my unit, it was a tight (albeit smooth) movement that would not need locking. Additionally, the diagonal back also rotates (with another thumbscrew lock) to provide a convenient viewing position. Why they offer both is a mystery.

The standard supplied eyepiece is a 23mm of indeterminate design although it seems to provide about a 50-52* FOV compared with my other eyepieces of known FOV, which would indicate a plossl design, and is fully multi coated.


General Use and Optical performance

The SV50 is light enough that it will not overtax even the flimsiest of camera tripods, although it is heavier than most 8 to 9X50 finders and could present balance problems at the end of a long OTA. The SV finder version is lighter at 19oz.

My photo tripod and the SV50 together only weigh 4lbs – not much more than an extra pair of blue jeans, and fit nicely in my suitcase for easy portability. The supplied 23mm eyepiece combined with the 200mmF4 objective throws up a bright, flat 9X image with no evidence of vignetting.

The helical focuser is super smooth and came to focus with all my standard plossl, orthoscopic and WA eyepieces. I had read somewhere that barlows would not work in the SV50, so I was pleasantly surprised to discover that a 2X Russian 'shorty' barlow I had in my kit would work. Perhaps the sloped nosepiece of this barlow allowed it to get that little bit closer to the focal plane.... In any case, it did work and allowed me the luxury of playing with a wider range of EP combinations and powers. (Did I mention that I like fiddling with telescopes.....?) I have since found out that my 3 and 5X shorty barlow will also work if you set the eyepiece out of the diagonal about 1/2"..

Now, I know what all of you are thinking at this point......It's a 50mmF4 for God's sake, what the heck can you expect to do with it.....

Well here's what.

Moon.

With the standard 23mm EP yielding approx. 9X, the moon came to a crisp focus with excellent contrast and no evidence of false colour. Well, duhhh – it's only 9X Malcolm – everything looks okay at 9X.....sooooo, time to pump it up.

In goes a 12.5mm plossl for 18X. Still nice and crisp, good definition and contrast.

In goes the 2X barlow and 12.5mm plossl for 36X. Okay, the image is starting to dim as you would expect, but image is still sharp and contrasty. I can't go any higher at this point due to lack of lower FL eyepieces, but I think the SV50 is capable of more.

Vega

At 9X, in focus shows some false colour as does in and out of focus. Vega is a harsh test on any scope and this is after all, a short focal length achromat, so it is to be expected. However, it seems to be reasonably well controlled. For reference, a Televue Ranger or your garden variety 80ED does not show near as much false colour. The star images in the SV50 are well focused across approx ¾ of the field of view. (it depends on EP in use – if you ever want to see how eyepiece designs perform on short and long focal length scopes, I can recommend the SV50 and any F10 SCT for a marked contrast...:-)




Messier

As I was in the general vicinity, it tried M57 and M13. Couldn't pick up M57 from my urban back yard, M13 was clearly visible as grey smudge – but adequate for a finder. In darker skies, who knows?

Saturn

What? You expect to see Saturn, I mean Saturn as an extended image, not just a bright star!, and with a 50mm finder? Well why not? Using the barlowed 12.5mm (36X), I was able to clearly see the orb and the edge on rings, as well as Titan hanging off to one side. Clear but small!

Daytime viewing

The correct image design makes daytime use a breeze. The views are very sharp and can take magnification well if you have the right FL EPs. Chromatic aberration starts creeping in on rooflines and brighter objects at about 16X – although it is well controlled. At 32X it is obvious, but not objectionable.

It is interesting to reflect that until the advent of fluorite and ED glass, this level of chromatic aberration was perfectly acceptable and to be expected. The only way to minimize it was to make your scopes in F12 or F15 focal ratios. (beware the F15 APO marketing scams....lol) Modern lens design and coatings have come a long way towards minimizing the effects of CA – but you can't beat the laws of physics.

It must be kept in mind that;

a) This is a short focal length achromat with a prism diagonal. This is the worst combination for colour correction.
b) This is a finder first and a telescope second.
c) CA is really only an issue on bright objects, and at higher powers. (relative too its 50mm aperture.)
d) I'm viewing in light polluted urban conditions. Dark skies would obviously be better.
e) The results were to a certain extent dependent on what design of EP was in use. Simple EP's like Ortho's or Plossl's tended to minimize the CA. More complex wide angle EPs tended to accentuate it....

Conclusions

Overall, the SV50 is a remarkably robust, attractive and good performing finder/scope compared to the plethora of offshore finders flooding the market. It exudes the feeling of a quality product that has not been corner-cut to death in the name of price points and volume marketing.

There are a couple of benchmarks in the 50mm finder universe. One is the Takahashi 7X50mm and the other is the Russian TAL 8x50mm. I have not had the privilege (or the thickness of wallet) to look thru a Takahashi finder, but I have looked through a lot of TAL's (being the past N.A TAL dealer), and I can say that the Stellarvue is right up there with the TAL.

However, unlike those two finders, the SV50 will let you play with different EPs and powers, and because of its mounting configurations, is a lot more flexible. It has the ability to be a good mini telescope for its size and focal ratio, and an excellent 9 x 50mm finderscope.

Either way, it is well worth the extra $$.

Pros

Excellent optics
Excellent build quality
Smooth focuser
Accepts standard 1-1/4" EPs
Nice user features

Cons

No crosshairs in the spotter version
Spotter version designed for tripod mounting – hard to adapt for finderscope use.
A little on the heavy side.



Telescopes, Astronomy, Binoculars