From the
ATWB Customer Gallery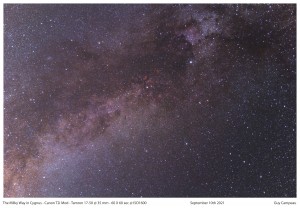 The M ilky Way in Cygnus
New Life For An Older Mount
[ARTICLEIMG NUM="1" ALIGN="CENTER" SIZE="MEDIUM"]Recently I came upon a Byers 58 GEM that belonged to a fellow amateur astronomer. He had purchased it in 1995 from a company that had modified it with stepper motors and a controller that allowed GOTO operations. Several years later the controller failed and could not be repaired. It sat unused in his garage through several moves around the country until a mutual friend here said he could build another controller that would allow basic tracking and slow slew speeds. He did but by then the mount was essentially outdated and no longer useful for what the owner needed. That's when I came along with an interest in the mount. We worked a trade deal and I became the proud owner of a Byers 58 mount that was still almost like new.
My first impulse was to somehow equip it with digital encoders so I could use it with a Digital Setting Circle controller. After some makeshift fabrication using wood, I ordered the Sky Commander with encoders from Anacortes Telescopes. The modifications worked but because of the summer doldrums here in Central Florida, I didn't get much observing done. However, I still researched the feasibility of converting the stepper drive motors and controller to a full GOTO system using Servo Motors. Fortunately I found a company in Oregon, Sidereal Technology, that made equipment that could be adapted to just about any telescope setup. The basic controller was very small and compact, and relatively inexpensive. The servomotors that they sold were a little pricy to me, so I found some on eBay for 50.00 for the pair. They turned out to be essentially new as far as I could tell. The only other need was to make appropriate mounts to hold the motors in the correct position and then connect to the two worm shafts using cog belts. I made some mockup mounts from oak and once I determined that they would work, I had my brother make me some from aluminum. He has a full machine shop and whipped them out in a couple of days.
The one item that I would need but was hesitant to get was a laptop computer needed to run the controller software. I do not get along with laptops, but it was a necessary evil. I found a good deal on an older Dell 600 that had been refurbished. It ran XP3 and has a serial port and a parallel port, in addition to USB inputs. The software needed is free downloads from SiTech so I downloaded the necessary software even before I had accumulated all the equipment. That gave me some extra time to become familiar with that aspect of the operation.
Once the parts were all gathered, I installed the motors, hooked up the gears and cog belts, and plugged in all the wires and cables. On my first power up one of the motors went into "run away" mode, but a quick call to SiTech cleared that problem up very quickly. Dan Gray and others affiliated with SiTech have been absolutely fantastic in their help and encouragement! Since then I have had the mount and scope out on just a few occasions, but enough to know that everything works very nicely. I am still spending a lot of time reading the manual and learning more of the system capabilities, but I really am looking forward to the first dark nights at a star party. Hopefully I can get a few under my belt prior to our big semi annual event, Astrofest, in south Florida.
Because the Servo Motors have built in encoders I did not need the other encoders I had adapted to the Byers, so I made some other encoder mounts and adapted them to my Russian TAL mount. So now I have two very useful mounts for my astronomy endeavors!
Walt Hamler
September 2013

Telescopes, Astronomy, Binoculars