From the
ATWB Customer Gallery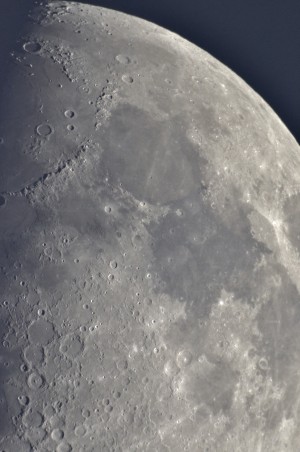 Moon Snapshot with Starmaster 11 "Shorty"
Spotting Scope Showdown: Factory vs. Homemade
It doesn't take long in amateur astronomy to accumulate a small bin of extra telescope parts. After a few experiments with department store telescopes and various surplus parts, I found myself with quite a supply of optical "treasure." While I was generally happy with my astronomical scopes, I wanted something a little smaller for terrestrial observing and trips to the shooting range. Unfortunately, as I've become more familiar with good quality astronomical scopes, I've also begun to notice vignetting in my old Tasco spotter. In short, I wanted a spotting scope. I ended up with five. In this comparison review, I pit two were inexpensive factory-made spotters (a Yukon Advanced Optics Scout 20x50 and a Tasco 15-45x50 Zoom) against three of my own home-brewed monstrosities (with 30mm, 52mm, and 57mm apertures). The scopes will be compared on build quality and usefulness in terrestrial observing situations.
Build Quality Testing
In this comparison, the scope to beat is the Yukon Scout 20x50. It is a modern interpretation of the old fashioned spyglass. The rubber-armored scope collapses into a 9-inch package and comes with a nice zippered canvas case that has a belt-loop for easy carrying at the hip. The scope has a focal length of about 360-millimeters and extends to 14.5 inches for use. The user rotates the eyepiece to focus. While it doesn't come with any tripod, the scope is 1/4-20 threaded for easy mounting on standard camera tripods. A gun sight is molded into the scopes body for easy target acquisition. The Scout features fully multi-coated optics and a fixed 20x magnification. It is light-weight, easy to carry, and priced to sell at around $40.
In contrast to the Yukon scope, the Tasco 15-45x Zoom spotter is clearly the villain in my testing. Tasco has a poor reputation in the astronomical community because it has sold millions of department store scopes with shaky tripods and poor eyepieces on the basis of exaggerated magnification claims. Surely, I could build a better spotting scope than Tasco. However, in Tasco's defense, this scope has served me reliably in my target shooting hobby for about 15 years. It is rugged, inexpensive, easy to use, and has sufficient power for target shooting. If you just want an economical spotting scope to take to the range, a cosmetically identical scope is offered today as the Bushnell Sportview.
Two of my home-built scopes were potential competitors for the Yukon. The first contender is a 30mm telescope built from a 1950's vintage military surplus M71 telescope objective, a .965 to 1.25-inch hybrid diagonal , and thin pine from a small IKEA organizer. With my extra 10mm and 25mm Orion Explorer eyepieces, the 350mm focal length scope provides 35x and 14x magnification. The box-shaped scope is focused by sliding the objective in and out of the body of the scope. Like the Yukon, it is compact, easy to carry and easy to hand-hold. The 90-degree star diagonal would theoretically make it easy to use for watching birds in the trees, but harder to use on ground-level targets. The reverse-image provided by the star diagonal also makes the scope worse than useless at the firing range. (If my bullet appears at 3 o'clock on the target, it is really at 9 o'clock, so I need to adjust my rear sights how?) The little wooden box scope is also not sealed from weather conditions. On humid nights, it can also be prone to fog up. Despite having about $120 worth of parts, the build quality of my homebuilt 30mm spotter is clearly no match for the less expensive Russian-made Yukon.
The second potential competitor for the Yukon is a compact spotting scope concocted using a small box, a 52mm spotting scope objective with a 210mm focal length, and a set of mounted military surplus binocular porro prisms. This scope has become home to my collection of .965-inch Huygens eyepieces. Theoretically, it should be wonderful. It is lightweight and easy to carry. A 10mm eyepiece provides 21x which is comparable to the Yukon. It offers a level of handmade craftsmanship that is just not seen -- anywhere. Suffice it to say, I'll never be able to join the Amish. My lens caps are made of balsa. I can feel that the binocular prism is a tad loose. While the objective, prisms, and eyepiece work fairly well together and provide good views, my hand-made wooden scope is too fragile to take any of the abuse that come with normal use. Again in this comparison, the build quality advantage clearly goes to the Yukon scope.
To beat the Tasco, I "kitbashed" a spotting scope from a military surplus M49 Spotting Scope objective, more IKEA pine, a length of threaded scope tube, and the focuser/eyepiece combination from an old Jason Astronaut variable power refractor. The old Jason was a straight through refractor with an integrated eyepiece and focuser. The eyepiece could be pulled out in stages to offer 15x, 30x, 45x, and 60x magnifications. Since the Jason had a focal length of 700mm and the M49 objective has a shorter focal length of 360mm, my algebra suggests that the graduations now correspond to 8x, 16x, 23x, and 31x. The resulting Jason/M49 spotting scope is a just a bit more compact than the old Jason astronomical scope and can just barely be hand-held for terrestrial observing. However, due to its solid construction, 1/4-20 thread, a mini-tripod, molded sight, and easy controls, the build quality advantage must go to the Tasco over it's home-built rivals.
Observing Usefulness
The Yukon Scout is a wonderfully useful scope. It fits neatly into a glove compartment. When we saw some alligators on a road trip, we were ready with the Scout and it allowed us wonderfully sharp views that had a usable field of view while letting us see the details of each and every scute. To deploy the scope, you simply pull it out, uncap it, extend the tube fully, and focus with the rotating eyepiece. My wife and I found simply this scope very easy to use. At 20x, the fairly lightweight scope is easily hand-held for short periods of time. In addition, the belt loop on the carrying case makes it easy to take on a hike. The Yukon has a focus distance of about 33 feet which makes it a little tough to use on the closest birds, but the carrying case makes it easier to manage both a spotting scope and a dog on a leash.
My scratch-built 30mm spotting scope was a bit disappointing in the birdwatching arena. The scope was constructed with an excess 90-degree star diagonal and I had intended to use it with 25mm and 10mm Explorer Eyepieces. Both eyepieces generated wonderfully sharp, clear, images, but the 10mm eyepiece provided a little too much magnification to easily aim steadily. It was also awkward to aim the spotter through a 90-degree diagonal and cope with a mirror reversed image. Different eyepiece combinations or an 45-degree correct image diagonal might make it easier to use. More than likely, the 30mm scope will become a finder scope if I ever decide to take on the challenge of building an astronomical telescope.
I also expected to be disappointed by my homely home-brewed 52mm spotter. When I observed through an eighth floor window, I found that not all of my .965-inch eyepieces would fit well. While my 10mm Huygens would fit, I could not position it close enough to prism to get an effective focus. However, I was pleasantly surprised by my 20mm Huygens eyepiece. It worked perfectly and produced nice, sharp, bright images. While the 10.5x magnification was well within binocular territory, I found the scope lightweight and easy to hold for long periods. The low magnification allows for a wide enough field of view to take in far off scenes in their entirety. More surprises were in store when I took the scope out on a short birdwatching expedition. While I couldn't get the 10mm eyepiece close enough to the prism to work well, I found that I could get the 20mm eyepiece far enough away from the prism to get a nice sharp focus on objects as close as 7-feet away. This makes the home-built scope perfect for observing birds in nearby shrubs and trees. While the 52mm spotter might not be the most useful all-around scope, it clearly has the capability to satisfy a neighborhood birdwatching niche.
I opted to compare the Tasco Spotter and Jason Kit-bashed Spotter from the comfort of my apartment by focusing on a distant chimney through an open door. Both scopes are too big to be practical for hand-held birdwatching and I didn't want to be stigmatized as a creepy guy wandering through our apartment complex with a telescope. Looking at a target about 75 to 100 yards away, the highest magnification on both scopes revealed plenty of detail. I could pick out various dents, discolorations, and bird droppings on the chimney. The viewing experience was similar with a little vignetting evident with both scopes. I felt that I detected a little bit of internal reflection with the Jason home-built scope, but those can be easily rectified by a few modifications (a lens shade, internal baffles, more internal black paint, and better seals around the focuser and other scope seams. While my calculations suggested that I should see lower magnification with the Jason, at high magnification, the size of my target seamed about the same with both scopes. The Tasco proved a little more practical. To reach different magnifications, the Jason focuser had to be manually pulled out to the appropriate extension prior to focusing. This always pulled the scope off of target. In contrast, the Tasco offered a smooth zoom and helical focuser nicely built into the tube. While the advantage clearly goes to the Tasco, the home-built scope offered a near equivalent built out of spare parts.
Conclusion
In this comparison, I'd say the factory-made scopes were clearly the winners. I love my Yukon Advanced Optics Scout and I can admit the continued merits of my old Tasco. Without a garage, a workbench, a jigsaw, a design, patience, and a few other basic tools, I simply could not match factory workmanship. However, the surplus optics performed well and were not the weak link in the chain and a more skilled craftsman could easily make an excellent scope. Overall, from a convenience, economic, and quality perspective, it is tough to beat the Yukon Advanced Optics Scout. But, I'm getting a jigsaw soon . . .
Click here for more about this subject. -Ed.http://www.buytelescopes.com/product.asp?t=&pid=10987&m=199

Telescopes, Astronomy, Binoculars